High gloss paint is one of the most eye-catching options for your rooms. When used correctly, it can make your space look luxurious and more sophisticated by adding visual interest. It also reflects or amplifies light, helping you achieve many different effects. This high gloss paint guide aims to equip you with as much knowledge as possible about this sought-after finish.
What Exactly Is High Gloss Paint?
High gloss paints have more resin than pigment, creating a mirror-like finish. The surface of high gloss paint is smooth with few irregularities to break up light. When you look at a painted wall, the difference is stark. A wall painted with flat paint will not reflect light, making it appear flat. High gloss paint has a very high sheen level and appears almost mirror-like when applied correctly.

High Gloss Paint Finishes
Surfaces must be prepped to perfection to achieve the proper high gloss appearance. No imperfections should be left on the surface. Otherwise, you will easily see it through the finish coat. Surfaces must undergo the same prep work, whether it's new sheetrock or a previously painted wall. Secondarily, the finish applicators must be excellent — which you can bank on when hiring Shoreline High Gloss.
To reiterate, high gloss paint will highlight any and all imperfections. Since it creates a glass-like effect, any unevenness or bumps will be more apparent with high gloss paints than with flat, matte and satin options. For this reason, hiring a master-certified painter from Shoreline High Gloss for your project is essential.
Where to Use High Gloss Paint
High gloss paint can be used anywhere you'd like to achieve a "WOW" effect. Today, designers enjoy the various uses of high gloss paint in dining rooms, bedrooms, living rooms and other spaces. Front doors, ceilings and handrails have become increasingly popular.
High gloss paints have benefits that make their applications limitless:
They're great for high-traffic areas: High gloss paint is easy to clean, so scuffs and marks are easy to wash away. This characteristic keeps your walls looking like you've just hired a professional to paint them.
They are ideal for a dramatic look: Dark hues can create a sophisticated, eye-catching look. High gloss paints add visual interest everywhere, so bright, glossy paint on ceilings or one wall can add aesthetic appeal to any room.
They can liven up trims and furniture: Durable high gloss paints are ideal for cabinets and even furniture where they can imitate quality lacquer. Darker high gloss paint finishes create drama for trim, molding and beams.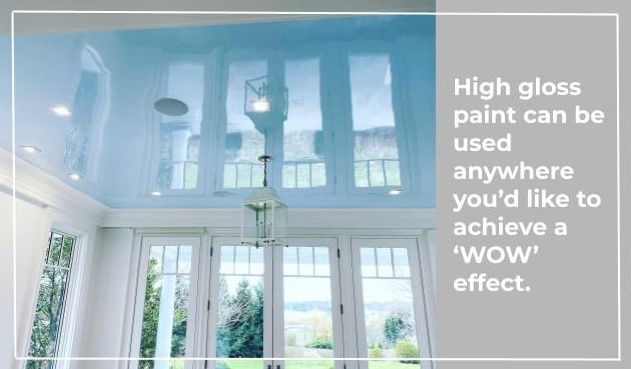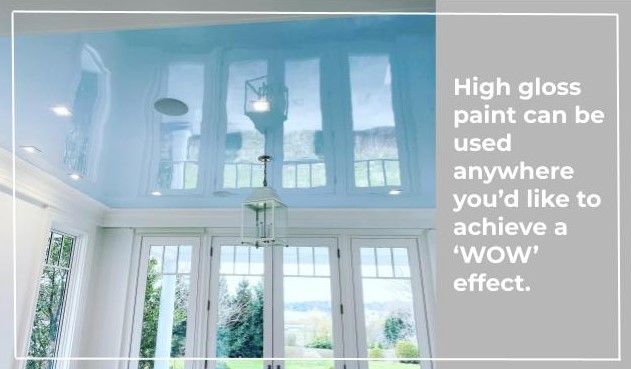 Is High Gloss Paint Good at Hiding Imperfections?
The exceptional sheen created by high gloss paint is ideal for highlighting unusual features and makes for a surface that's easy to clean. The intense high gloss paint sheen is due to its high degree of reflectivity, meaning imperfections or blemishes will be noticeable when covered with a coat of high gloss paint. If your surface undergoes proper preparation before painting, these marks or flaws should not be seen.
With a professional Fine Paints of Europe Master Certified Painter from Shoreline High Gloss taking care of your high gloss paint finish, you can rest assured of adequate cleaning, repairs and preparation to mask or remove those blemishes before painting.
How Often Should You Repaint High Gloss?
Knowing when to repaint your high gloss surface depends on several factors, including how much traffic the surface sees. For the most part, your hallways, bathrooms, kitchen and children's bedrooms will likely need repainting before other areas.
It's also a good idea to repaint your high gloss surface in the following instances:
The paint is fading, typically due to exposure to sunlight.
You've noticed cracks or damage, often caused by moisture or poor workmanship.
You're ready for a change and want to update the look of the space.
It's time to sell your home, and you want to ensure your property looks its best for potential buyers.
Does High Gloss Paint Need an Undercoat?
Due to its high sheen and reflectivity, careful surface preparation is essential when painting with high gloss paint, so applying an undercoat is highly recommended. At Shoreline High Gloss, our highly skilled team can apply an undercoat in the following instances:
If the existing color is darker, we apply an undercoat that closely matches the new high gloss paint color for the best results.
Painting directly onto plaster, drywall or other bare surfaces must begin with a layer of undercoat.
Where flaws and blemishes exist, undercoat and primer work together to create an even surface, masking imperfections.
When painting onto a gloss surface, an undercoat goes a long way to preventing potential peeling over time.
Putting High Gloss Finishes in Your Home With Shoreline High Gloss
When you incorporate high gloss paint into your home, you can transform your space in countless ways. If you want to do something other than flat, matte, eggshell or satin finishes, adding some high gloss paints on trims or one wall can make an incredible difference that will undoubtedly elevate your home. Since high gloss paint pairs well with other textures, you can mix and match high gloss elements with walls painted with different finishes.
If you're interested in a high gloss painting service, choose the best! Shoreline High Gloss is one of only eight MASTER Certified Fine Paints of Europe companies with the experience and selection you need for your next project. Contact our team today to get started.