Many homeowners prefer high gloss paint for interior walls and ceilings because of its beautiful, luxurious finish. However, high gloss paint can be challenging to apply correctly. That's why following a clear and effective high gloss painting process is so important. At Shoreline High Gloss, we've developed a successful interior painting process that ensures we meet every customer's highest standards.
Below, you'll find all you need to know about how the high gloss painting process works at Shoreline High Gloss.
1. Protecting Surfaces Before Painting
The first step involves making sure all surfaces and objects are protected. At Shoreline High Gloss, we know how valuable your home and furnishings are to you. That's why we prioritize protecting them before we start with the rest of the interior painting process. This protection process involves taping windows, papering floors, covering stone surfaces and more.
If sanding is required for walls or trims, we'll remove furniture from the room beforehand. If we can't remove items from the room before sanding or painting, we'll cover them securely prior to us starting any work in that room. Additionally, our painters will mask doors and windows with painting tape and masking paper. Lastly, we also ensure any plumbing fixtures and decorative hardware are properly protected before moving on to the next step.
2. Preparing Surfaces Before Painting
Once we've ensured that all surfaces and furnishings are properly covered and protected, our next step is to prepare the surface to be painted.
First, we ensure that the walls and ceilings are clean. Any bit of dirt, dust or grime will affect the longevity of the high gloss paint. If we believe that a surface isn't clean enough according to our standards, our team will apply a cleaning solution to get rid of soot, smoke damage and any other debris. This prepping process may also include sanding the surface, patching holes and caulking baseboards. For increased precision, our team will use spotlights to find any possible imperfections on the walls or ceilings.
A properly prepared surface is vital in order to ensure high-quality and long-lasting interior paintwork. This preparation is often the most time-consuming part of the process. However, it's also one of the most important aspects of what's involved with high gloss painting. The smallest imperfection in a wall or ceiling can affect the end result and will show through the high gloss finish.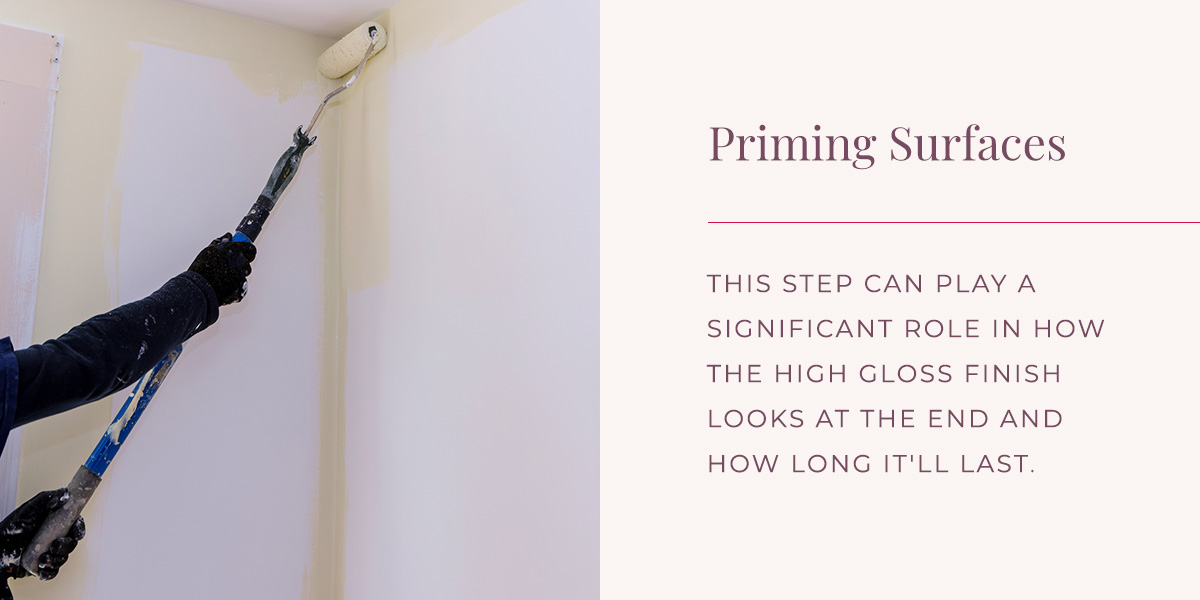 3. Priming Surfaces Before Painting
Ensuring surfaces are primed before painting is an essential step in the interior high gloss painting process at Shoreline High Gloss. This step can play a significant role in how the high gloss finish looks at the end and how long it'll last over time. Therefore, we prime all surfaces before we start painting, regardless of the surface's condition.
As a result, our interior painting process will always include applying a coat of primer to the walls and ceilings before painting. Using a primer before painting allows us to create a more even base, increasing the paint's ability to adhere to the surface. It also assists with durability. Additionally, if there are any stains, dark marks or color irregularities on the surface, a paint primer can also help cover them.
4. Painting
Finally, after ensuring we've cleaned, prepared and primed the walls, ceilings and trims, we'll start painting. Shoreline High Gloss is a Fine Paints of Europe Certified Master Painter, and we specialize in high gloss finishes, so our team of highly skilled and trained artisans excel in interior high gloss painting and finishes. For interior painting projects, we use Fine Paints of Europe's Hollandlac Traditional Interior/Exterior Oil Paint on walls, ceilings and trims. This solvent-thinned and alkyd-based paint is perfect for consistently delivering a beautiful, super high gloss finish to any surface.
At Shoreline High Gloss, our process of high gloss painting includes applying at least two finish coats of paint to all walls, ceilings and trims. Additionally, we perform a thorough inspection of all painted surfaces in between the two coats of paint. Before starting with the application of the second coat, we sand, wipe and clean all surfaces to ensure the best possible final product.
In addition to ensuring the best high gloss finishes for walls and ceilings, our team is equally dedicated to the other surfaces or trim pieces in the room. When painting any trim, doors or windows in the room, we follow the exact same process. Often, painting the trim can end up being the most time-consuming part of the painting process because of our team's incredible level of dedication and attention to detail. Ultimately, we know that the trim is the final finishing touch that can impact how a room looks at the end.
5. Cleaning
Many people might think of painting as the final step in the painting process. That said, we go a bit further to ensure your complete satisfaction. The Shoreline High Gloss interior painting process includes deep cleaning as a final step after painting. This step involves our team removing any debris from the painting site and sweeping, dusting and vacuuming every area in which our team has worked. Plus, we include daily cleanups and debris removal every day that our team is on-site. That's an important part of our process included at no extra costs for our customers.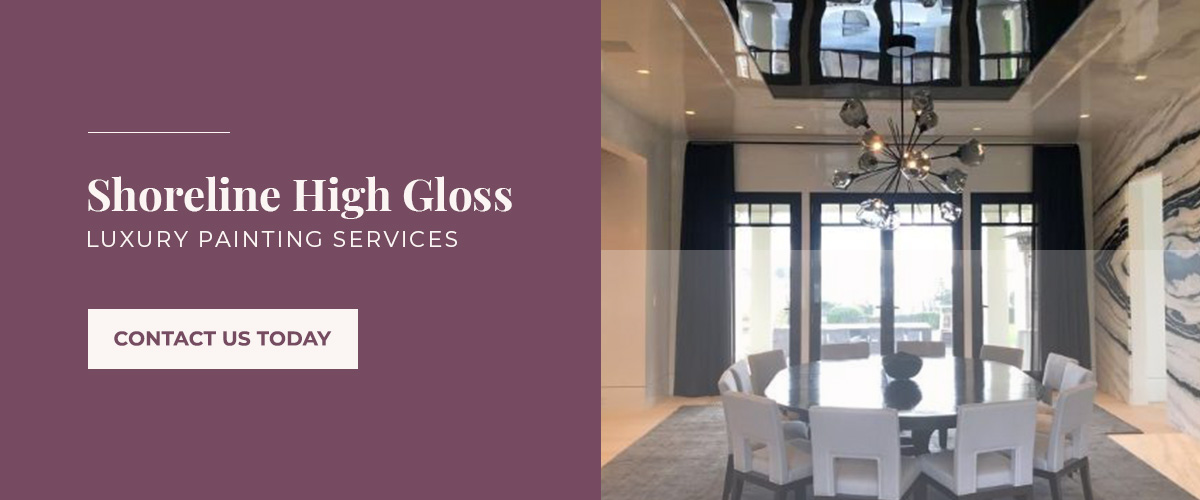 Shoreline High Gloss Luxury Painting Services
Located in New York City and Palm Beach, Florida, Shoreline High Gloss offers high gloss services that will transform your home's interior so it makes a statement. Regardless of your unique design style, our dedicated team of artisans and our use of top-of-the-line high gloss paint will be able to give your home the update you envision. As a Fine Paints of Europe Certified Master Painter, we can guarantee long-lasting quality and a beautiful, flawless finish.
Contact us today to schedule a free consultation. Browse our website to learn more about what's included in the high gloss painting process. The team at Shoreline High Gloss looks forward to serving you!