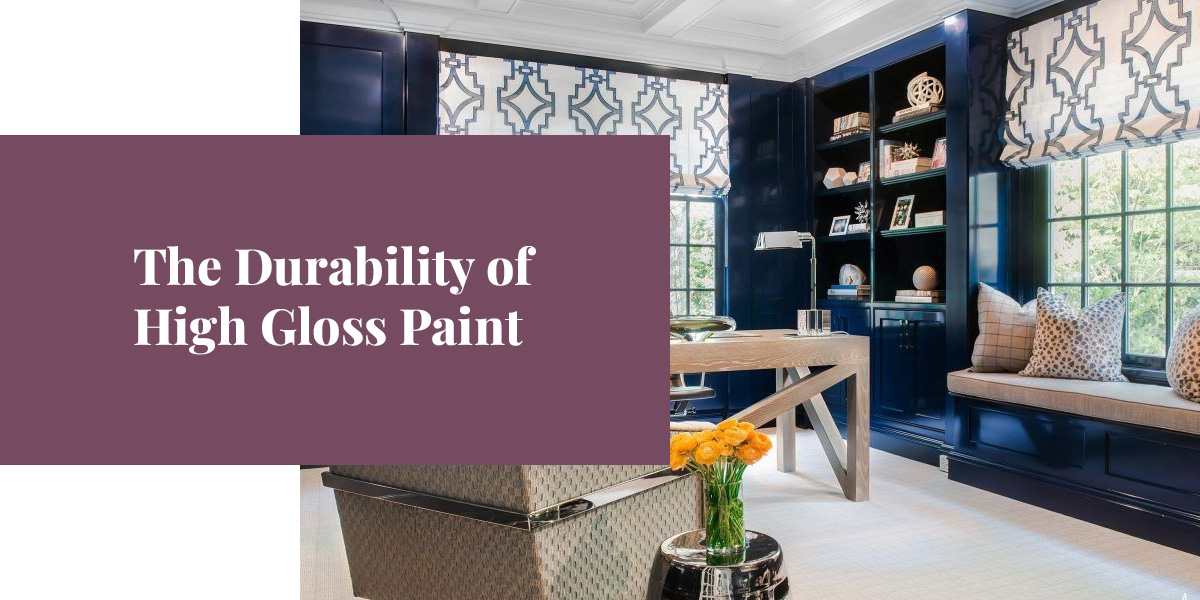 Whether you want professionals from Shoreline High Gloss to transform a space in your home or give a room a new touch of color, high gloss paint is one of the most eye-catching finishes to consider for your project. You can easily enhance your favorite colors with added shine and an impressive list of benefits that allow you to enjoy your wall color for years to come.
Learn more about what makes high gloss paint durable and how you can admire this finish in your home.
Is High Gloss Paint Durable?
When you compare high gloss paint to other types of paint finishes, there are several noticeable differences in appearance and benefits. Flat, velvet, eggshell, semi-gloss and gloss all offer various textures, but none compare to the impressive durability of high gloss.
When you choose high gloss finishes, you gain new color with the highest level of durability. One of the most significant benefits of high gloss paint in your home or business is that you do not have to give up style when prioritizing permanence and longevity for your walls. When you select high gloss, you will receive a luxurious glass-like appearance combined with the most reliable durable features.
Compared to the other paint finishes you can choose from, the shine of high gloss paint lasts longer so you can enjoy the elegant look in your home or company for years to come.
Why Is High Gloss Paint Durable?
The glass-like appearance of high gloss paint may already have you considering this finish in any living area in your home. While the look is an important factor, learning more about its durable properties is just as essential for enjoying this elegant view for many years.
The durability of paint finishes depends on the gloss rating and reflectivity. The higher the gloss, the more light reflectivity the paint offers, and the more reflective a paint selection is, the higher the durability. Matte and satin are lower on the gloss scale because they are not reflective finishes — as a result, they scuff and fade quickly, meaning their finishes don't last that long. In contrast, high gloss paints rank highest among other finishes, making them the most durable paint option you can choose for your interior projects.
How Durable Is High Gloss Paint?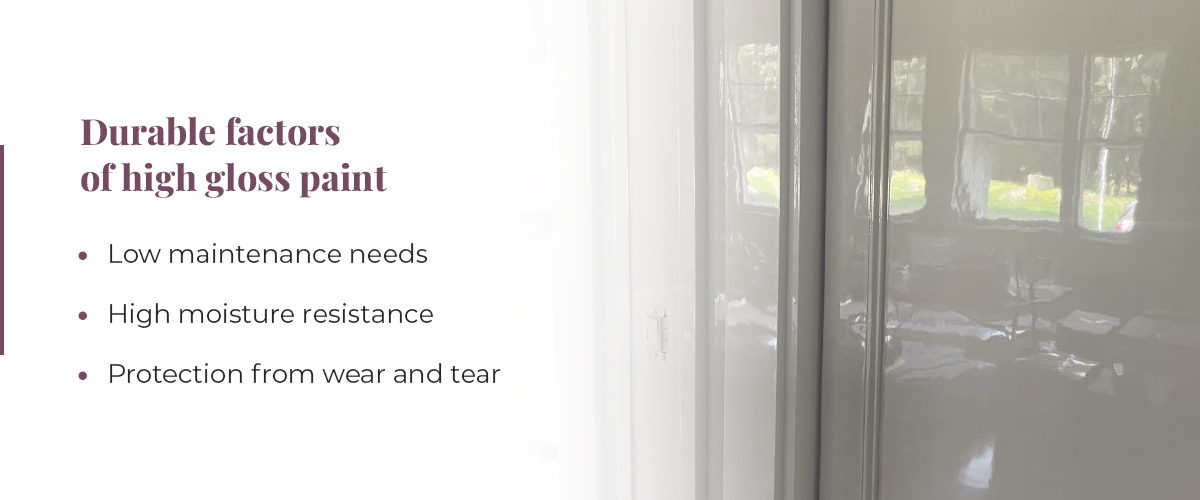 You can rest assured that your interior spaces will shine bright and withstand years of high traffic, scuffs, moisture and other elements with the help of high gloss paint's impressive properties.
The durable factors of high gloss paint include:
Low maintenance needs: High gloss paint finishes are sleek in appearance and material. With this tough outer layer that does not absorb the everyday messes of water spills, oil from fingerprints or dirt, you can easily clean your walls with a simple wipe of a microfiber cloth. High gloss paint is also excellent at withstanding dust particles and other contaminants in the air so you can enjoy the look of your walls for years without signs of fading.
High moisture resistance: With the paint's ability to withstand moisture from puddles, steam and humidity, you will not have to worry about faded or chipping paint in these areas of your home. High gloss finishes protect your walls from everyday cooking, cleaning and going in and out of your house so you can continue to enjoy your favorite activities without sacrificing the appearance of your walls.
Protection from wear and tear: Homes with young children and pets can benefit from the high gloss paint's ability to protect your walls from scratches and scuffs. Over time, it can become easier to notice where kids and pets enjoy playing by the fading and marks that appear on your walls. Luckily, high gloss is perfect for withstanding these signs of wear. This paint is also ideal for high-traffic areas such as hallways, foyers and staircases.
Where to Use High Gloss Paint in Your Home
With the impressive durability of high gloss paint, you can enjoy your favorite color anywhere in your home with the added benefit of moisture resistance and an easy-to-clean finish. Everyday messes and years of moisture buildup are no match for high gloss paint's ability to shine brighter than any other finish in the business.
The best places to use high gloss paint in your home to protect your walls and surfaces include:
Ceilings: Even though your ceilings aren't near high-traffic areas, they can still benefit from high gloss paint. These flat surfaces can collect dust and other contaminants in the air that can go unnoticed for years. With the help of high gloss, you can easily clean your ceilings with a few swipes of a microfiber and enjoy a sleek, mirror-like appearance.
Furniture: Walls are not the only place you can use high gloss paints to accentuate elegant features and aesthetics. You can make your side tables, bookshelves and coffee tables stand out with extra shine and colors that match your room's preexisting color palette. The result is a high-drama and highly durable finish that can withstand excessive use.
Doors and shutters: If these objects in your home get slammed or scuffed, high gloss paint can help mask these marks that appear over time. Your doors and shutters can make a statement with the elegant shine of this paint finish for your neighbors or customers to admire.
Entryways: High-traffic areas, such as your foyer or entryway, can offer years of elegant sheen that your guests, friends and family will remember for years to come. As they walk through this area, you will not have to worry about scuff and dirt marks staining the walls. A simple wipe with a microfiber cloth can make the walls look good as new again.
Contact Shoreline High Gloss for Painting Services
With the benefits of high gloss paint, you can enjoy this finish in your home or business with the help of Shoreline High Gloss. As one of the eight painters in the world to be named a Certified Master by the Fine Paints of Europe company, we pride ourselves on offering quality high gloss paint finishes that fit your aesthetic.
At Shoreline High Gloss, we prioritize your complete satisfaction with our high-end craftsmanship during every step of our painting process. If you are in the Palm Beach or New York areas, you can rest assured that our expertise in the painting industry and your vision for the perfect home or business project can work together to create a beautiful finish.
Contact us today to get started on your high gloss painting ideas.