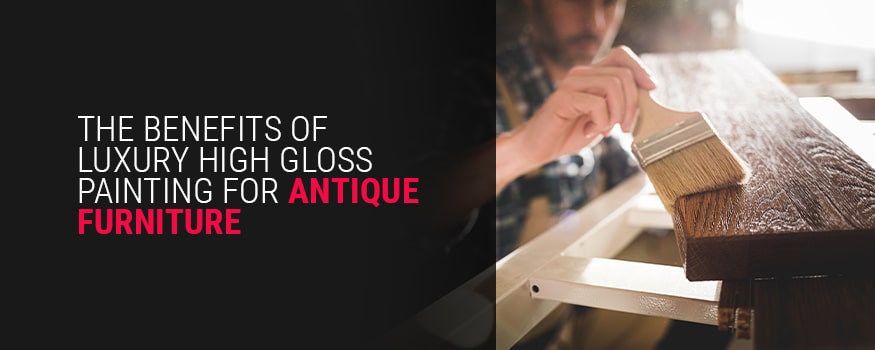 Adding a high gloss paint treatment to antique furniture is breathtaking — when applied perfectly. Many do-it-yourself homeowners and non-specialized painters attempting to achieve this look end up with paint streaks, mistakes and lackluster results. Accomplishing a glassy smooth finish with high-sheen paint requires the utmost preparation and care, especially on antiques. Even the slightest surface imperfections will show when using high gloss paint.
An expertly applied gloss finish in a fresh color can breathe new life into your antiques and even increase their value. Explore some of the top benefits of painting furniture with high gloss paint.
5 Benefits of Painting Antique Furniture With High Gloss Paint
Painting wood furniture goes beyond just a color change. When done right, high gloss paint is a protective, time-saving choice for furnishing your home that comes with other benefits.
1. Increase Moisture Protection for High-Humidity Areas
Steam from showers and bathtubs takes a toll on antique wooden cabinets. Over time, moisture can damage unprotected wood furniture, resulting in watermarks, cracks, warping and swelling. Preserve and protect surfaces in humid bathrooms, kitchens, laundry rooms, patios and solariums with a lacquer-like paint application from Shoreline High Gloss.
We utilize only the best formulas to yield an architectural-grade coating so water splashes and product spills have no adverse effect on your antique furniture and wipe up easier than ever before. Hollandlac's marine-quality enamel finish is so water-resistant that we could paint a boat with it and sail into the Atlantic Ocean with zero issues.
2. Modernize and Refresh Dated Furniture With Bold Color
Before banishing an inherited antique to the attic, review it with fresh eyes. Does it have good bones or interesting details? Turn that dated piece into a decor showstopper with an on-trend saturated color makeover.
Saturated hues make a statement, but it's a new level of luxury to let bold colors shine in a mirror-like finish. Gloss surfaces offer a high-end reflective look that other finishes simply cannot provide:
Daytime whimsy: Sunlight bounces playfully off high gloss coral cabinets and pistachio accent chairs.
Evening drama: Chandeliers glow against dining room antiques in high-sheen sapphire or emerald green.
3. Save Time and Money by Painting Antiques Instead of Buying New
If you plan on purchasing brand-new furnishings, you may be waiting for months. Finding the right piece in the perfect color for your home may extend the search.
Furniture pieces from thrift stores and antique shops are often economically priced, especially compared to new orders, and you can take them home the same day. Denser old-growth wood construction makes most antiques better quality than many of today's furnishings. Refresh rooms on your timetable by getting your unique finds a protective Shoreline High Gloss paint treatment.
4. Add Durability for High-Traffic Rooms and Kid Zones
When people picture antique furniture, they may imagine fragile pieces that must be handled with the utmost care. Beautiful furniture shouldn't be relegated to off-limits rooms. Vintage furnishings deserve placement in prominent areas of the home, to be used and loved for generations to come.
Furniture pieces in high-traffic entryways, hallways, living rooms and children's play areas experience much use and wear with time. Our high-shine paints create a hard shell-like coating that:
Adds strength and durability to delicate antiques
Prevents scratches, wear, nicks and chips
Stands up to heavy use from kids and pets
Resists dirt, water and contaminants
Feel confident decorating with antiques by protecting them with a Shoreline High Gloss treatment.
5. Reduce Your Carbon Footprint by Upcycling Antiques With Paint
The manufacturing process to create brand new furniture results in deforestation, chemical use and carbon dioxide production. This is especially true with "fast furniture" — large-quantity furnishing orders created with poor-quality materials at ultra-low prices, usually disposed of within a few years due to wearing out.
The United States Environmental Protection Agency (EPA) reports upward of 12 million tons of furniture waste to date, with more than 80% ending up in a landfill. Restoring existing antiques with high gloss paint is a sustainable choice that keeps furnishings out of the landfill and conserves global resources.
Shoreline High Gloss offers excellent quality low-VOC, LEED-certified eco-friendly paints that are safer for the health of your household, protect the environment and meet green standards.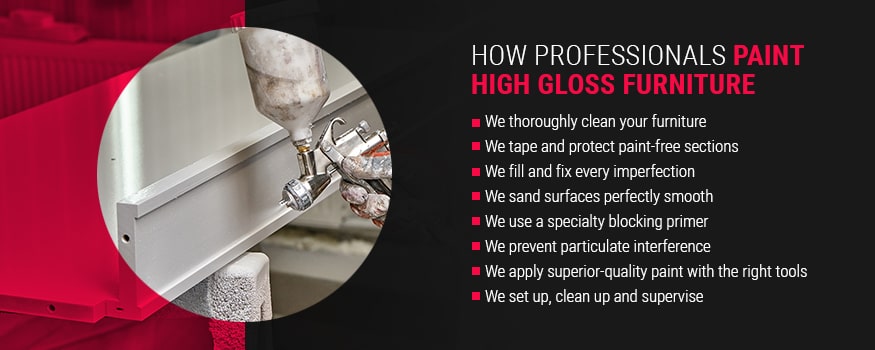 How Professionals Paint High Gloss Furniture
Our Fine Paints of Europe Master Certified Painters are recognized as industry leaders for our excellence and expertise in specialty paint finishes. Shoreline High Gloss has perfected a professional paint application process for furnishings that delivers exceptional results every time:
We thoroughly clean your furniture: We clean the entire antique piece to remove decades-worth of embedded dirt, grease and other hidden contaminants.
We tape and protect paint-free sections: Our team neatly tapes any surfaces that should remain unpainted, such as dresser drawer sides, buffet countertops and wardrobe interiors.
We fill and fix every imperfection: A gloss finish starts with a flawless furniture base. We locate and fill every scratch, dent, crack, nail hole and joint, no matter how small, with wood filler, putty or other surface-compatible filler based on your unique piece.
We sand surfaces perfectly smooth: We sand your piece top to bottom and take extra care with carved details, working our way up in sandpaper grit until the facade is texture-free. Your furniture will undergo inspected passes of spackling, sanding and primer to ensure the smoothest possible pre-paint foundation.
We use a specialty blocking primer: Wooden antiques can have tannins that bleed through standard water-based paints if a specially formulated stain blocker is not first applied. We use high-performance, high-hiding primers by Fine Paints of Europe for an heirloom-quality high gloss finish on wood furniture.
We prevent particulate interference: Our painters have perfected the process to fulfill a dust-free, reflective sheen. Before and between paint coatings, we wipe down furnishings with denatured alcohol and microfiber cloths to prevent airborne dust from settling in the wet finish.
We apply superior-quality paint with the right tools: For the color coats, we apply no-filler, heavily pigmented high gloss paints. Our painters only use specialty brushes and tools to apply thin, even layers of the Fine Paints of Europe paint formulas for long-lasting coverage.
We set up, clean up and supervise: Our team takes your property's care very seriously. We safeguard the paint site to protect flooring and surrounding areas and clean at the end of every workday. A job site supervisor, crew leader and general manager are present at all times for the project duration.
Improve the Value of Your Antiques With a Professional High Gloss Paint Finish
Wondering whether painting antique furniture could ruin its value is a common concern. It is true that some pieces may have historical value and will maintain a much higher worth unpainted, so if you're in doubt, it never hurts to get an appraisal or seek the opinion of a respected antique dealer. In the world of art and decor, value can be incredibly subjective. In many cases, a well-executed paint job can increase the value of an antique.
Should I Paint My Antique Furniture?
Ultimately, the choice is up to you. While an antiquarian may care more about the original condition of a particular furnishing, an interior designer may place a significantly higher value on that same piece after it is painted, especially if it exemplifies the latest decor trends.
One of the biggest deciding factors for many clients is the protective quality of high gloss paint. With our durable high gloss treatment, you can safely place antiques in the most heavily used rooms of the home or high-humidity areas. You'll love overhearing guests notice the stunning details of your grandfather's curio cabinet, and you'll feel confident knowing it will stand the test of time in a hue hand-picked for your home's color story.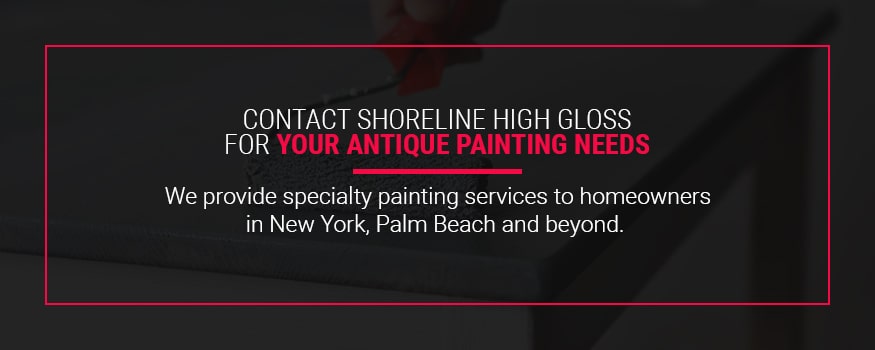 Contact Shoreline High Gloss for Your Antique Painting Needs
If you're ready to give your antique furniture much-needed protection and a colorful design update, look no further than Shoreline High Gloss. Our fully licensed, bonded and insured painting experts have the experience and training to refinish and refresh your vintage pieces with the care they deserve.
We provide specialty painting services to homeowners in New York, Palm Beach and beyond. For a consultation, contact Shoreline High Gloss today.