According to designers and stylists, the pandemic significantly impacted home decor trends, including high gloss color trends for 2021. 2021 high gloss paint trends are deeply affected by the pandemic. With more people spending additional time indoors, a cozier indoor space is in fashion, and 2021 high gloss paint trends reflect that, with welcoming and usable shades taking center stage.
If you want to update your home in 2021, Shoreline High Gloss has a large selection of high gloss interior paints to choose from. Our fine paints are some of the most innovative formulas. When you work with us, you work with true artisans of color.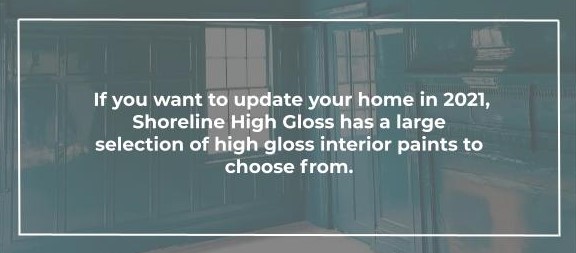 Lights
Some of the best interior high gloss paint colors of 2021 include light colors such as beiges and pale shades of gray and blue. Blush pinks are also very on-trend right now, creating a warm, welcoming space that is still neutral enough to work with many style choices. Whites are always popular, though today's whites are layered in texture and tone to create depth and visual interest.
In 2021, you can also expect to see interior palettes centered around colors from nature, including soft greens, browns and other shades you might expect to see outdoors. Light colors can help rooms look larger and more open, reflecting light and creating a calm look. High gloss light paints reflect light even better.
Darks
Dark, dramatic paints are still popular, including deep blues and greens. Dark jewel tones like garnet and sapphire, as well as black and off-black colors, lend drama and moodiness to many rooms. Jewel tones can look especially intriguing in high gloss, as their intense colors look even more stunning when the finish reflects the light.
In keeping with the natural palette, dark colors such as forest green and deep navy are also seeing a moment in 2021, thanks to their classic, timeless feel. They pair beautifully with light neutrals and whites for a less intense overall look, too.
Dark high gloss paints create visual interest and high drama as well as a sophisticated look. Due to their intensity, dark colors look best when limited to one wall, larger rooms or ceilings.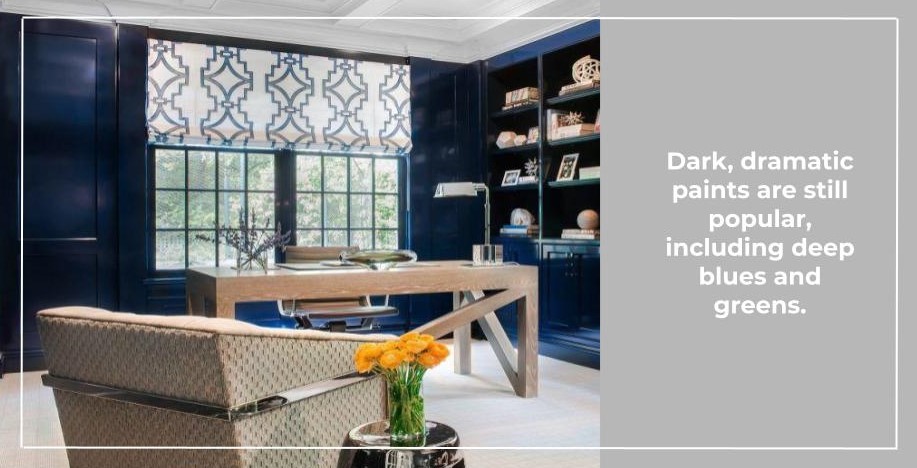 Bolds
Bright shades are still popular interior high gloss paint colors for 2021. Younger, fashion-conscious consumers are especially gravitating towards warm, bright colors such as yellow, orange and bright pink.
These bold pops of color can look very stylish in a high gloss, especially when paired with modern furniture and white accent pieces. They can also create an energetic, playful atmosphere, making spending time indoors feel more fun and invigorating.
Choose Your High Gloss Paints
If you want to transform your home in 2021, contact Shoreline High Gloss for professional guidance. A new color can refresh your home, and our experts can help you find the perfect shade for your interiors. We are a Fine Paints of Europe Master Certified Painter and use superior quality paint to give you a magnificent high gloss finish.