You probably spent a lot of time and money choosing the right pieces of high gloss furniture for your home, so it makes sense you want tokeep it looking new. Understanding how to clean your furniture in the right way is important. If you're unsure how to take care of high gloss furniture, then consider this helpful guide.
Protect High Gloss Furniture From Chips and Scratches
Caring for high gloss furniture starts with preventing unnecessary damage. This step will help you maintain your furniture's value while keeping your home looking its best.
While some damage is inevitable, there are several ways to avoid putting your high gloss furniture in harm's way, such as:
Not writing on furniture surfaces: One of the best ways to safeguard your pieces of high gloss furniture is to avoid writing on their surfaces. Using a ballpoint pen or other sharp writing utensil can scratch and damage your furniture.
Keeping furniture away from high traffic areas: Protect your furniture by ensuring it's away from potentially hazardous areas such as entrances to your home, doorways to interior rooms, and frequently used hallways. Try to find a safe place where you can still prominently feature your high gloss furniture pieces while preserving them.
Using the correct furniture cleaning methods: Your high gloss furniture can become damaged, scratched or chipped if you're not cleaning it correctly. The proper methods and supplies are essential to avoid unnecessary damage to your furniture.
Protecting furniture surfaces from hot items: Heat is damaging to your high gloss items, as it reacts with your furniture's finish. Ensure you always use a placemat or other protective guard for any hot dishes or cups you place on your furniture's surface.
Keeping furniture away from direct sunlight: Sunlight can cause permanent fading and discoloration in high gloss furniture. Use window shades or place your furniture in darker rooms.
Cleaning Supplies for High Gloss Furniture
Cleaning the lacquer on your furniture is key to protecting your investment. While deep cleaning is best left to professional companies like Shoreline High Gloss, you can still perform daily maintenance. But before you get started cleaning your high gloss furniture, you'll want to ensure you have the right supplies, including:
Lint-free, non-abrasive cloths.
A mild detergent solution.
Lukewarm water.
Supplies to Avoid When Cleaning Your Furniture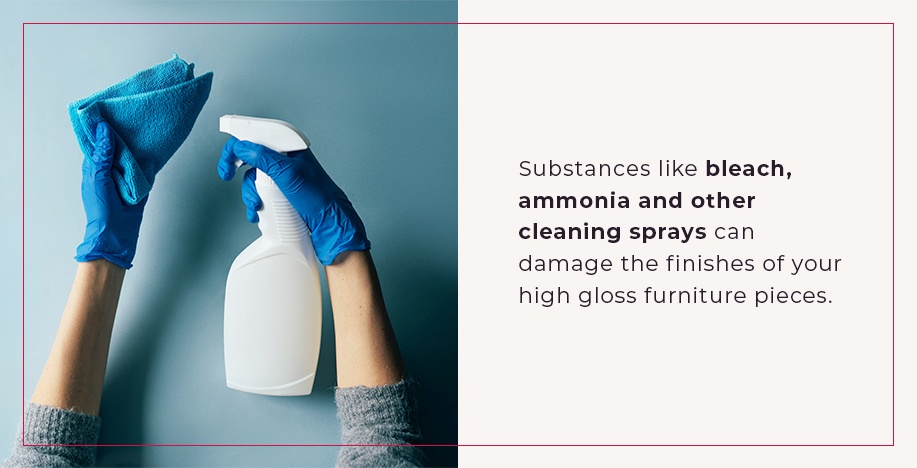 One of the most important aspects of caring for your high gloss furniture is understanding what materials to avoid. There are several harmful cleaning products, such as:
Chemicals: Substances like bleach, ammonia and other cleaning sprays can damage the finishes of your high gloss furniture pieces. Other chemicals such as acetone, nail polish remover and nitro-based thinners will essentially dissolve the finish on your furniture and should never be used on or around your pieces. Even the fumes that these chemicals emit may damage your high gloss lacquer furniture items.
Silicone-based polishes: Most store-bought household furniture polishes are silicone-based. Over time, the silicone residue will collect on the high gloss surfaces of your furniture and leave streaks that need to be removed by professionals. If you're going to use a store-bought furniture polish, then it's imperative to carefully read the label first.
Waxes: Avoid using any waxes as high gloss furniture cleaners, as they damage your pieces over time. Many types of wax are gritty and will scratch the surface of your furniture. Wax will also build up over time and eventually result in smudges and discoloring.
Abrasive cloths and rags: You'll want to avoid materials such as high fiber bathroom or kitchen towels, paper towels, and linty rags when cleaning your high gloss furniture. The fibers from these types of towels get trapped in the lacquer finish on your high gloss items and require a professional company like Shoreline High Gloss to remove them.
How to Clean High Gloss Furniture
Now that you have your cleaning supplies prepared, it's time to learn more about how to clean high gloss lacquer furniture. You'll want to take the following steps:
Use a soft cloth: You'll want to use a soft lint-free cloth to clean your high gloss furniture. The fibers from abrasive materials such as paper towels can become trapped in your furniture's lacquer finish, leaving your items discolored or damaged. A soft lint-free cloth can clean your furniture without leaving fibers behind.
Use a mild detergent solution: A mild detergent solution comprising warm water and a few drops of dish soap is enough to clean your high gloss furniture pieces. This mixture will remove dirt, dust and other debris from the surface of your high gloss lacquer furniture items without impacting their finish.
Use an approved polish: If you decide you want to polish your high gloss items, ensure you have carefully read the label to check that it's approved for cleaning high gloss lacquer furniture.
Wipe up spills immediately: Spills and accidents are going to happen, especially if you have kids or pets. Ensure you clean and wipe up any spills right away, as sugary drinks, greasy foods and other residues will stain your furniture.
Deep Cleaning and Repairs
Many people wonder if they can clean stains from high gloss furniture. If your furniture is stained, discolored or just faded, then you'll need to invest in deep cleaning and repairs by professionals. Cleaning and properly caring for your high gloss furniture is a vital part of keeping your items looking like they did the day you bought them. However, when it comes to deep cleaning and repairing your high gloss furniture, you'll want to consult the professionals at Shoreline High Gloss.
Attempting to repair scratches or remove stains on your own can result in further damage. A professional painting company like Shoreline High Gloss understands the complexities of dealing with lacquer finishes and possesses the experience needed to successfully restore your high gloss lacquer furniture.
Shoreline High Gloss Furniture Painting
The professionals at Shoreline High Gloss have been serving the homeowners of NYC and Palm Beach for over 10 years. Our master artisans are versatile, knowledgeable and innovative. As one of only eight Fine Paints of Europe Master Certified Painters in the entire world, we understand how high gloss furniture adds beauty, elegance and dignity to your home's design concepts.
We can refinish your existing high gloss furniture or create something beautiful from a new furniture project. Our versatile high gloss painting services will meet all of your furniture painting needs and transform your home into a picturesque setting. Contact Shoreline High Gloss for your furniture painting project needs today!