High gloss paint creates mirror-like finishes on walls and furniture, transforming your home into an elegant, polished space. From start to finish, this process requires perfection and precision, which is exactly what we provide at Shoreline High Gloss.
If you're wondering how to choose a high gloss paint color, we've got your back. With expertise in the industry, we know a thing or two about high gloss paint. Here is our guide to picking the right high gloss paint color.
Create a Color Scheme
Choosing the right high gloss paint color comes down to the furniture you own or plan to incorporate into your home.
A great way to create a color scheme is to find an object in your home that gives you comfort or has an emotional connection to you, and use that object to color match with Shoreline High Gloss.
Some other typical color schemes include:
Monochromatic: Choosing one color to polish your home can make any space elegant. A monochromatic look can easily add style to your home. Neutral colors are perfect for creating sleek and pristine rooms. You could also select different hues of the same shade of any color for a bolder look.
High-contrast: Colors on the opposite side of the color wheel are complementary, becoming most noticeable when paired together. A refreshing mint and bright peach can be a beautiful color combination for bathrooms and kitchens, while lavender and yellow can be unique in a bedroom.
Triad: Use the three primary colors — red, blue and yellow — to craft a bright, stand-out room.
A Shoreline High Gloss color consultant will help you figure out the best color scheme for your home. For a complete color consultation, they'll consider the room size, features, light exposure, furniture, trim and current color schemes.
Consider the Mood
If you're wondering what the right high gloss paint color is, you should know that finding the perfect match involves some psychology. Each color can make you feel a certain way. Although this is not the same for everyone, there are some common thoughts surrounding color meanings and emotions.
For example, blue can promote a sense of soothing and tranquility, while orange is a livelier, more enthusiastic color. Red and yellow are stimulating hues, while neutrals, like white and gray, are wholly versatile and used in classic and modern looks. Black creates depth and can complete a color scheme. Bolder colors, like pink, purple and green, lend the room different feelings, depending on the specific shade — for example, dark purple creates a sense of sophistication, while light purple is a more relaxing color.
With every color creating different feelings, it's essential to consider how you can utilize them in your home. A Shoreline High Gloss color consultant will be able to identify what colors are best suited for the mood you're trying to achieve.
Pay Attention to Lighting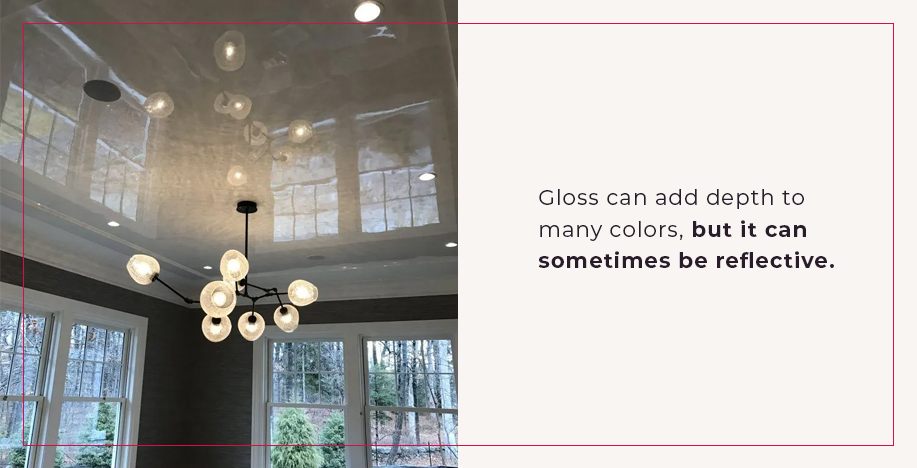 One of the most challenging parts of finding the perfect paint color is making sure you find one that looks right in all lighting.
Keep in mind when and how you use these rooms. For example, if you only use your dining room in the evening, you should emphasize how the paint will look under the light in your home rather than natural light.
Gloss can add depth to many colors, but it can sometimes be reflective. Your Shoreline High Gloss color consultant will be able to tell you all about which colors absorb light.
Natural Light
Gloss paint can amplify the effects of natural light. You'll need to evaluate the positions of your rooms when deciding your paint color.
A room facing the south will experience intense light exposure. Light colors in these rooms run the risk of appearing washed out. Rooms facing north will have exposure to softer, warmer light, making dark colors appear darker and light colors more subdued. West-facing rooms will see warm, orange light, while east-facing rooms will see a soft green glow.
Incandescent Light
Because incandescent light brings out warm tones, bright reds, oranges and yellows will appear much more intense under this light. On the other hand, rooms colored green, blue or other cool shades will appear dulled by incandescent light.
Fluorescent Light
Fluorescent light can work well with greens, blues and other cool colors because it gives off a blueish hue. It's possible to find fluorescent lights that give off warmer light, but they will still be cooler compared to incandescent lights.
Consult With a Professional
Selecting the right high gloss paint for your room will affect how you and others feel about it for years to come. It is not a task that can be done quickly and easily, especially with high gloss paint. Professionals at Shoreline combine their years of experience with your vision to help you create a perfect space to bring new life into your home. They'll take into account your space, current themes and additional features to create an outstanding result.
Why you should consult with a professional:
Precision: High gloss paint has to be applied correctly. This means ensuring you have pristinely prepped the walls for the paint. Shoreline High Gloss painters know exactly what they need to do to ensure a beautiful finish.
Perfection: Imperfections on the surface will allow you to see through the finish coat and ruin the effect of your high gloss. Triple checking for marks and bumps is a daunting task to complete independently. Shoreline High Gloss painters ensure you have a perfectly coated wall.
Efficiency: Painting takes valuable time, and the little things add up. Buying one or two paintbrushes might not seem like a big deal by itself, but by the time you've bought all the materials needed, you'll have realized hiring a professional from Shoreline High Gloss would have saved you time and money.
Expertise: The professionals at Shoreline High Gloss know everything there is to know about color. They'll be able to provide you with information you might not have considered before.
Let the professionals at Shoreline High Gloss turn any room into an extravagant, eye-catching space while you sit back and relax.
Use High Gloss Paint With Shoreline High Gloss
Shoreline High Gloss specializes in high-end gloss finishes that transform your home. Our top priority is customer satisfaction. With over 35 years of experience in the industry, we know how to bring your designs to life with special attention and excellence.
If you're considering a high gloss finish for your home, request a consultation or contact our painting professionals to learn what we can do to turn your home into the most livable, beautiful space.