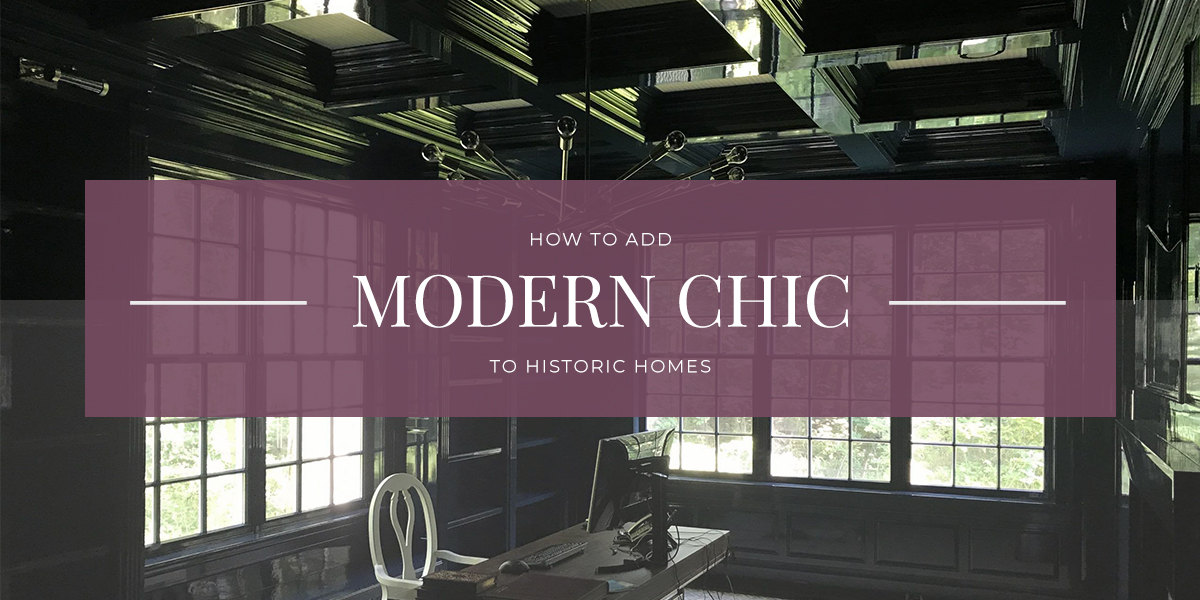 Are you planning a historic home renovation for your newly purchased property? Or have you lived in a period home for years and feel like the rooms are stuck in the past?
When your residence is filled with history, it can be challenging to envision interiors as anything but the period in which the house was built. Yes, it's an incredible privilege to be a steward of historical architecture, but it's also important to remember that the building is not a museum — it's your family's home. You live, work and play in this space, and you deserve to feel inspired every time you walk through your front door.
Learn how to reclaim your space and bring dated design into the present with historic home paint ideas and mindful decorating decisions. Let's explore the transformative power of high gloss paint for historic homes.
1. Perk up Your Front Door With High Gloss Paint
Meander through the historic district of a European city, and you'll notice the sunlight glinting off of shiny front doors, like inviting jewels along the street. This time-tested aesthetic traveled across the Atlantic, inspiring American architecture in cities from coast to coast. From the centuries-old rowhouses of London to the gorgeous brownstones of New York City, glossy painted doors offer a highly protective finish and traditional look that will never go out of style.
Historical Chic
Want to infuse your entry with color while still embracing your home's history? Take your cue from Victorian and Edwardian townhomes from across the pond and choose one of these period-accurate hues to greet your guests:
Church-door red
Deep conservatory green
Dark stormy blue
A Modern Entrance
If you dance to the beat of a thoroughly modern drum, shake up the front of your historical house with one of these unexpected modern paint colors:
Majestic magenta
Aqua blue
Sunshine yellow
Pair your vivid door with planters showcasing flowers in the same tone to add continuity and turn the head of every passerby.
You don't have to choose a wild color to make a statement. Attention-getting high gloss black doors exude elegance, especially when paired with brass or gold hardware. As a bonus, black front doors can boost your home's resale value by thousands of dollars, making your modern-chic decision a worthwhile investment.
2. Remove Outdated Wallpaper for an Instant Facelift
Does it feel like a wallpapered time capsule in your house? Modernize with a dramatic paint facelift.
It's no surprise that one of the first tasks homeowners tackle when renovating historic homes is stripping away those layers of faded, peeling wallpaper to create a new foundation for modern furnishings. Remove outdated wallpaper and upgrade to a professional paint job from Shoreline High Gloss for smooth walls and stunning spaces that finally feel like you. Other benefits of removing wallpaper include:
Once the wallpaper is gone, you can easily find and repair any hidden wall damage.
With a now-blank canvas, you can test different swatches to pick the perfect shade for each room.
Ridding the walls of busy patterns returns the focus to your home's one-of-a-kind details — beautiful millwork, trim and high ceilings.
If you love wallpaper, you can still work it into your modern aesthetic. Wallpaper is having a renaissance moment right now, with current trends embracing nature-inspired accent walls and select areas of trompe l'oeil imagery — realistic scenes that trick the eye. This elevated design style of limited wallpaper zones is a modern alternative to the floor-to-ceiling wallpaper approach from decades past.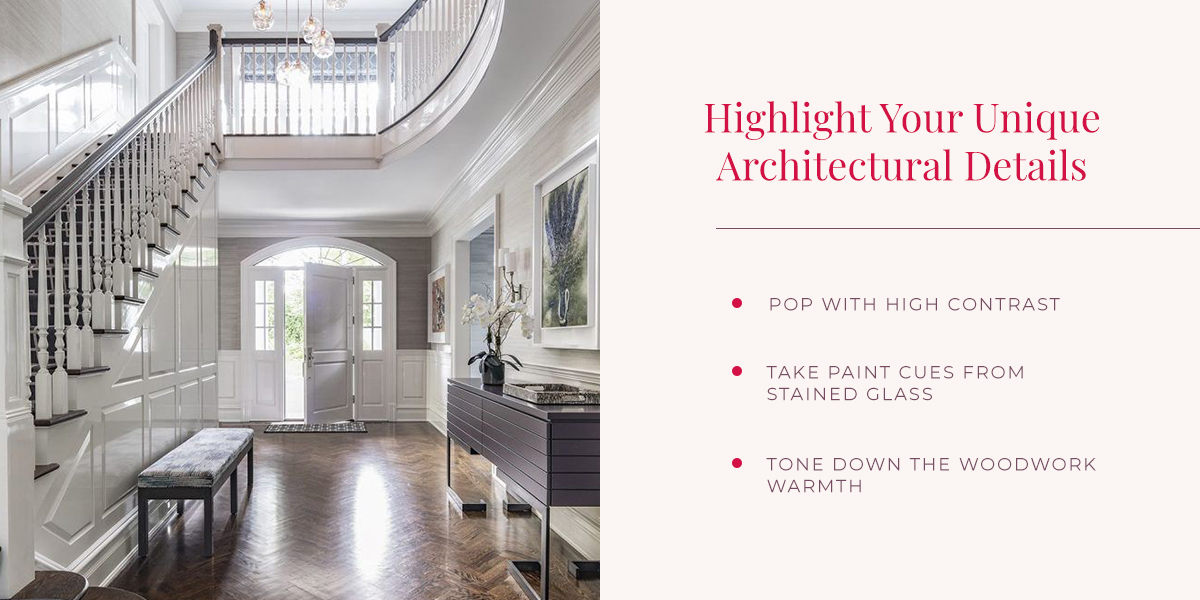 3. Highlight Your Unique Architectural Details
Smartly painted walls guide your eyes around the room, drawing attention to your home's elaborate crown molding, millwork, coffered ceilings, stained glass and original hardware. If your home has stained wood in excellent condition, think twice before painting over these details as it may be a better choice to preserve them for future generations.
The right wall paint color next to stained wood trim makes a huge difference in updating a room. And if existing woodwork has damage and would benefit most from a total paint makeover, then go for it. High gloss finishes best showcase dimensionality and intricate details.
Celebrate architectural details and bring your home into the 21st century with these historic home paint ideas:
Pop with high contrast: Pair original dark-stained wood molding with light and bright walls in white, light gray or pale pastels. Punctuate dark jewel-toned walls with creamy white trim. A black-and-white color combination is always striking — consider white walls with pitch-black doors and stair railings or inky walls with crisp white molding.
Take paint cues from stained glass: Make your home's original stained glass the star of the show by selecting a dominant or accent glass color for your walls. Frame the stained glass window like a painting with high gloss white or black window trim.
Tone down the woodwork warmth: While color trends come and go, cool colors are favored right now and are the ideal choice to modernize your home. For a more contemporary interior, tone down the warmth of original wood accents using cool grays and seafoam blue walls or sophisticated darker tones such as emerald blue-green, navy blue and eggplant purple.
4. Mix Old and New for an Updated Look
Historic home interiors don't have to look like a museum exhibit for 1700's living. You can modernize your older home without filling it top to bottom with contemporary furnishings and art. After all, you purchased your historic beauty because you fell in love with its charming original details.
Interior designers know that mixing old and new features help a space feel grounded and elegant. Curate a timeless, collected look with a blend of contemporary and antique furniture, lamps, art, colors and textures. Keep the character and mix in some modern flare:
Pair sleek couches with a hand-carved coffee table.
Get a Shoreline High Gloss treatment for your library room's built-in bookcases in an unexpected color.
Top an ornate period fireplace with a bold, minimalist painting.
5. Illuminate Your Rooms With Light-Reflective High Gloss Paint
Cabinetry, ceilings and walls come alive with dancing light when finished in a high shine. Relaxing and airy, light colors visually open up spaces. Extend historically high ceilings even further and create the bathroom of your dreams with lustrous white gloss ceilings and trim for an ethereal, spa-like experience.
Wake up Walls and Ceilings With Contemporary Paint Colors
There is something truly magical about the glow of light against dark, moody walls and ceilings. Deep jewel tones are having a moment right now. Emerald, garnet, deep teal and on-trend dramatic black add modern sophistication and a rich backdrop perfect for minimalist spaces or eclectic sanctuaries. Use a mixture of antique and sleek lighting fixtures to reflect against high gloss painted ceilings for a jaw-dropping modern makeover.
Neutrals are another go-to designers use to freshen up historic homes. Keep the tones cool and contemporary with white, light gray and smoky charcoal.
Use Historic Home Paint Colors in a Fresh Way
Historical colors are anything but boring. Victorians used deeper nature-inspired hues of amber, red and emerald green — still popular today! Make historically accurate wall colors feel right at home in this century by treating them as a foundational backdrop and building your room decor from there. Layer in clean-lined neutral seating, light-colored rugs in fun patterns, potted plants and bold artwork.
Modernize Your Historic Home Interiors With Shoreline High Gloss
Shoreline High Gloss has been updating historic homes with perfectly painted high gloss finishes for over 35 years. Our family-owned company provides the highest degree of craftsmanship and expertise to homeowners in New York, Palm Beach and beyond to bring your design dreams to life.
As one of only eight Fine Paints of Europe Master Certified Painters in the world, Shoreline is an esteemed leader in high-shine paint services. You can trust our experience and expertise to meticulously prepare your historic walls and woodwork and refinish using the highest quality paints on the market. Avoid costly mistakes and get your renovation project right the first time with Shoreline High Gloss.
Ready to preserve and update your historic residence with a gorgeous paint treatment? Call us at 212-764-3059 or contact us today to schedule a free estimate!