Your front door is a big part of the overall look and curb appeal of your home, so you want it to look good. A fresh coat of paint goes a long way in boosting curb appeal as well as protecting your door from the elements. High gloss paint is a gorgeous option for upgrading your front door.
Why Use High Gloss Paint on a Front Door?
High gloss paint yields a smooth, reflective surface which creates a visual contrast against the other colors of your home. The glossy, shiny paint makes your front door stand out and boosts the aesthetic appeal of your home by offering a vivid look that accentuates your entryway.
Shoreline High Gloss only uses the best high gloss paints in the world. These paints are made from top-quality resin and finely ground pigment that produces rich, vibrant colors. They're also odor-free and low-VOC, making them safer for your family and the environment than traditional paints.
High-quality glossy paint is also incredibly durable, long-lasting and easier to clean than other paints. It's moisture-resistant and won't fade due to scrubbing, making it a great option to protect your front door from dirt, rain and scuff marks.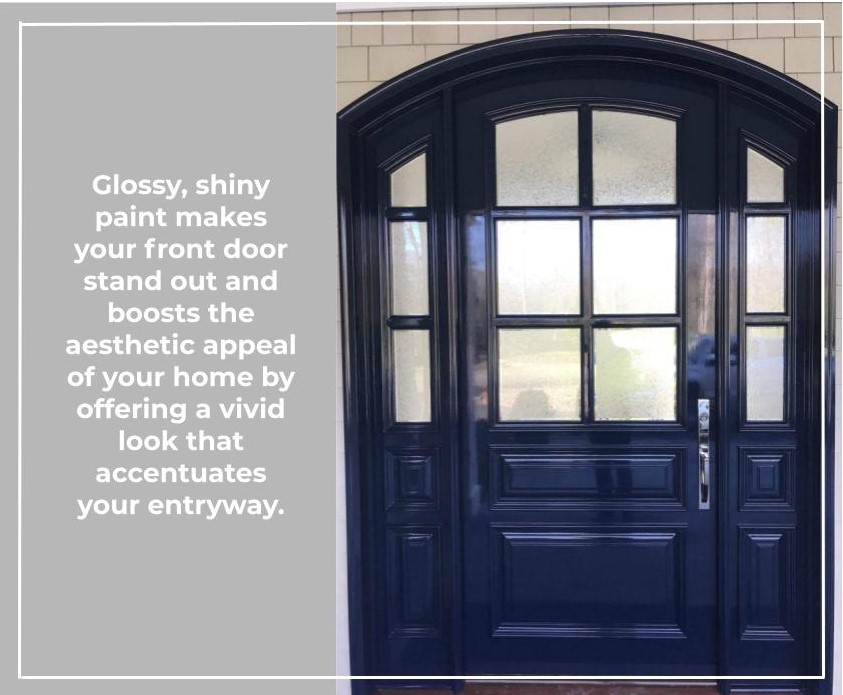 The Best High Gloss Colors for Doors
One of the most popular color choices for front doors is red. Whether in bright red or more subdued hues like burgundy and brick, this color gives your home a vibrant personality. You might also decide to give your home a fresh, beachy or farmhouse look with a bright blue or teal front door.
If you don't want your door to be too bright, you could opt for a dark green or gray, as doors in these hues complement many different aesthetics. Black shiny door paint is another attractive option for an entry upgrade. While matte black might make your door look too dark, a lustrous gloss reflects the sun rather than absorbing it.
The color options for high gloss paint are endless, so you can pick any color that suits your home. From bold reds to elegant blacks, using exterior high gloss door paint will let you achieve the style you're looking for. Whether you want to match other colors of your home or opt for a contrasting hue, you can be sure a high gloss paint will make your door shine.
Contact a High Gloss Painting Professional
High gloss painting is different than conventional painting, as high gloss sheens can draw more attention to scratches, dings and other minor flaws if applied poorly. It requires proper application techniques that can only be mastered with in-depth knowledge and experience. At Shoreline, our highly skilled and experienced artisans excel in high gloss painting and will provide superior results every time.
Shoreline High Gloss is a Fine Paints of Europe Certified MASTER Painter — and one of only eight painters in the world with these credentials — so we can transform your space and guarantee long-lasting quality and high-end craftsmanship. We're family-owned and have over 35 years of experience performing exemplary work. Reach out for a consultation on our high gloss painting services in Manhattan or Palm Beach!