When the weather gets cooler, and you start getting ready for the holidays, it's an excellent time to have your house professionally painted. Look through your home for places that may need some updates, such as outdated rooms, dings or marks on the walls. Our professionals can even paint your furniture for you to give it a fresh appearance.
Before you spend more time inside this winter, make sure you have a house you enjoy. Think about what paint colors would make your home feel warmer and more inviting for guests. Explore the best high gloss paint colors for fall to give your house a brand-new look.
Why Start a High Gloss Painting Project in Fall?
High gloss paint makes your home more durable and aesthetically pleasing. Fall is one of the best times to have your home professionally painted for the following reasons:
Get your home ready for the holidays: Professional painting services are in demand in the winter because most homeowners want to spruce up their houses before they host their loved ones for the holidays. You can get your home ready for the holidays before the rush by taking advantage of our availability in the fall.
Brighten up your home: About 5% of people in the United States struggle with seasonal affective disorder (SAD). Beat the winter blues with some bright, inviting colors to boost your mood and make a warm environment for guests. Paint your bedroom with your favorite colors to put a smile on your face when you have to stay inside.
Fall temperatures are ideal for painting: The cool air that comes with the fall is easier to work with than the hot sun or frigid snow. Extreme temperatures cause paint to dry unevenly, which affects your home's look. This time of year is also ideal for interior painting because we can keep the windows open to get the paint fumes out and bring in the fresh air.
The humidity from the summer is over: Besides the temperature, your home's humidity also affects your interior or exterior painting project. The surfaces of your walls, ceiling, furniture and other parts of your house must be dry so that the paint sticks to them. Since summer is sticky and humid, you should plan to paint your home in the fall.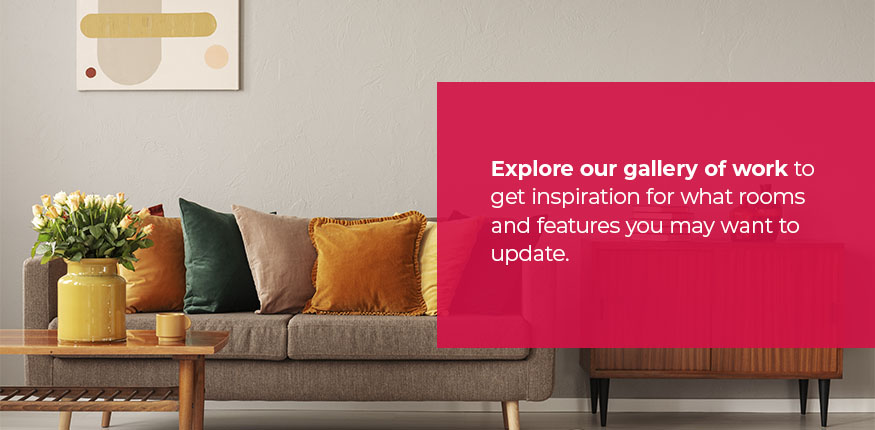 Project Ideas for Your Home
Explore our gallery of work to get inspiration for what rooms and features you may want to update. Even if you don't need to repaint your entire living space, we can touch up the walls that have markings or outdated colors. These areas of your house may need a fresh coat of paint:
Kitchen: The kitchen can be a focal point of your home, whether you enjoy cooking or entertaining. If preparing your living space for the holidays, the kitchen is an excellent place to start. Spruce up your cabinets with high gloss paint to wow your guests and show off your design style.
Bathroom: Since the bathroom is a place where high humidity is always present, colors tend to fade, and stains are difficult to remove. High gloss paint allows you to keep your bathroom clean and luxurious for many years.
Entryway: Your guests will feel welcomed if you choose to use high gloss paint in your entrance. Since this is a high-traffic part of your home, a fresh coat of paint allows the walls and ceiling to become more durable, especially during the holidays when everyone comes to visit.
Children's room: Areas where children are present need to be safe and durable. Since little ones like to make a mess and touch everything, add a high gloss finish to the walls, furniture and ceiling to keep them in excellent condition.
Front door: Your home's front door is the first impression guests have of your living space. Invite people inside with a new coat of paint. Our high-quality products will withstand any temperatures or harsh weather conditions you may face in your local area.
Furniture: Your home's chairs, dressers and other furniture are exposed to dirt, oils and grease daily. Have your furniture professionally painted with fall high gloss paint hues to protect them from damage and create a warm environment in your rooms.
Popular High Gloss Paint Colors for Fall
Since high gloss paint has more resin than pigment, it tends to have a reflective surface. Combined with the warm fall colors outside your window, you can boost your home's visual appeal with these fall-inspired high gloss paint colors:
Purple: Warm, rich purple tones give your home the feeling of royalty. Mulberry or plum makes a bold statement in any room of the house, while mauve paired with blue or taupe provides a relaxing atmosphere for you and your loved ones. True purple high gloss paint pairs well with fall-inspired and winter-inspired interior designs. You can create a contrast with bold purple and mustard yellow accents or subtle hints of blue and purple throughout your living space.
Blue: Blue is a classic color that you can enjoy in any season, but dark blues are especially popular in the fall. Pair navy blue with deep red for a dramatic entryway or living room. You can also create a coastal living space with light blues and neutral tones.
Orange: Orange is a classic fall color because it brings to mind the color of the leaves and pumpkins. Consider painting your living space a desert orange or amber with neutral accents for a warm feel indoors. Even though coral and peach are fall colors, they also pair well in a coastal home that's popular all year long.
Neutral colors: Neutral colors are in season all the time because of their ability to match most colors in your home. Dark neutrals bring a warm cup of coffee to mind, while almond and light gray pair well with richer, more vibrant colors for an aesthetically pleasing contrast.
Green: Green is a rich color inspired by nature. As the leaves change color outside, you can bring botanical greens into your house. Consider pairing green with orange, white or red fall flowers for a unique floral design. You can also pair green with blue for a coastal feel to your home.
Red: The color red represents passion, and as an attractive color, it creates a dramatic statement in any part of your home. Pair it with the subtle yet regal navy blue for an aesthetically pleasing contrast. Red is a fall color that brings to mind the red leaves, as well as the poinsettias that adorn our home in the winter.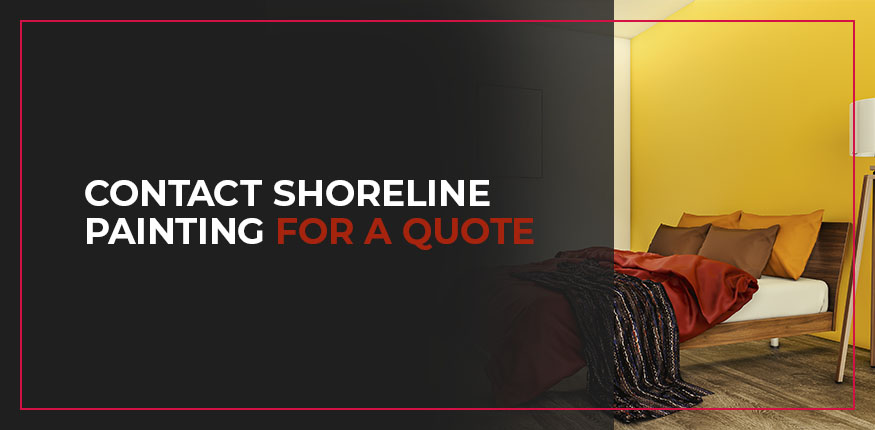 Contact Us for a Quote
Shoreline High Gloss by Shoreline Painting is a Fine Paints of Europe Master Certified Painter company. We specialize in professional interior painting services in Manhattan and Palm Beach to get your home ready for the new season. If you want your home painted in one of these fall high gloss paint hues, reach out to us online or call 212-764-3059.