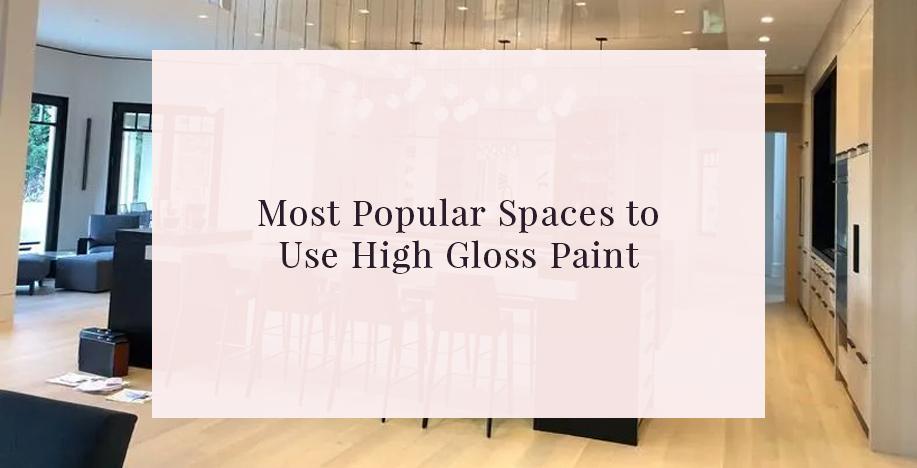 In the past, a high gloss finish was reserved for few spaces, and walls were almost always expected to be matte. But today, many designers and homeowners are breaking free from the norm and incorporating high gloss paint throughout their homes in locations that would have once been deemed unconventional. To give you some interior design inspiration, we're going to go over the most popular spaces to use high gloss paint.
Where to Use High Gloss Paint
Here are some ideal areas for professional high gloss paint applications:
1. High-Traffic Areas
Certain parts of our homes experience more traffic than others and, as a result, face a higher rate of wear and tear. Fortunately, high gloss paint is highly durable and easy to clean with soap and water. Some popular spaces to use high gloss paint include:
Wet Rooms
Kitchens and bathrooms are constantly being exposed to dirt, oil and high humidity. Over time, this causes colors to fade, impossible to remove stains, white surfaces to look dirty and cracks in your drywall and wooden features. By incorporating high gloss paint into your walls, ceilings and other precious features, you can maintain the beautiful appearance of these rooms.
Mudrooms and Entryways
Give guests and yourself something dazzling to step into with entryways that have a high gloss finish. Mudrooms and foyers are among the more high-traffic areas of your home. Choosing a high gloss paint for these spaces ensures the result will withstand the test of time — and countless visitors.
Children's Rooms
Children love to touch everything, play with everything and make a mess of everything. Their rooms are often the poorest victims of their activities. Luckily, a high gloss finish can be applied to their rooms, as well.
Their dressers, tables and walls can all be decked out with high gloss paint, which can survive the impact of whatever kids have to throw at it. The right color of high gloss can make their room even brighter and more vivid, and the shine that comes from its glassy surface will definitely catch a child's eye.
2. Doors and House Shutters
Doors and shutters are grabbed at, knocked on, slammed, bumped into and mistreated in every other way imaginable. Their original quality won't last forever, but why not give them a fighting chance with a high gloss finish? Whether they're outdoor or indoor, these features can get protection against the elements with a sophisticated flair thanks to a high gloss paint application. The appearance of high gloss works exceptionally well when applied to a front door and shutters in the same color.
3. Most Furniture
Most furniture receives a lot of contact with people, food, dirt and oil. If you have any pieces you wish to preserve for years to come while improving their appearance, high gloss paint for furniture may just be what's needed. High gloss looks beautiful on a series of furniture with similar colors, like side tables and bookshelves. Creating a consistency of color and high gloss on your furniture allows you to visually see the light interacting with the room.
4. Walls
Most people expect to see a matte finish on walls, which has been tradition. High gloss lacquer paint for walls subverts that expectation and acts as a welcomed disruption from the norm.
The light that shines from the wall gives a feeling of movement that might have bee
n missing from its residing room otherwise. This sense of movement alone can effectively improve the mood of your room regardless of color. High gloss paint on walls doesn't have to be tied down to just living rooms and bedrooms. It can be applied anywhere like hallways, laundry rooms and even garages.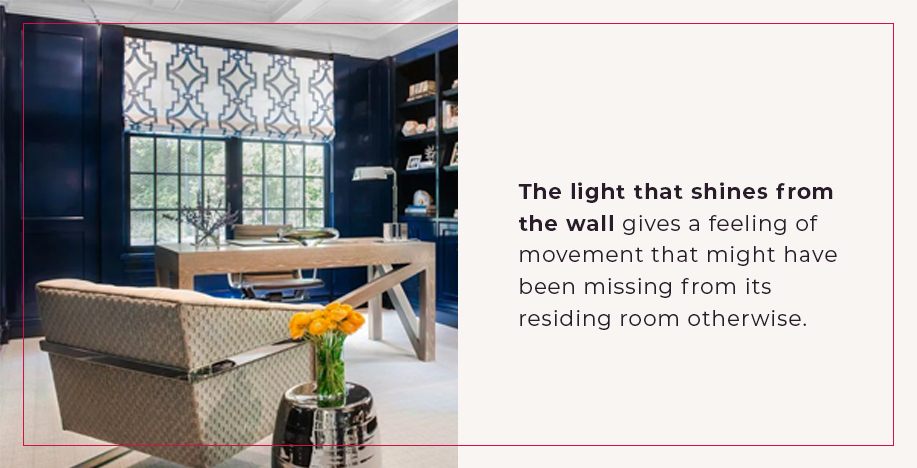 5. Ceilings
If your room feels too small and cluttered, it may benefit from a high gloss finished ceiling. High gloss paint on ceilings can give a room a sense of depth and space through its reflective surface. This effect may make residents feel more at ease in the residing room since the space will feel like it opens upward. High gloss paint on ceilings with a deviating color can also provide a striking contrast from the rest of the room, creating a dramatic atmosphere.
6. Moldings
Moldings may not be the largest feature in a room, but they are noticeable. Moldings to a room are like a frame to a photo. A good sleek picture frame can highlight the contents of a photo, so let your moldings do the same for your room. Painting high gloss onto the moldings can contribute a sense of elegance while protecting the feature from aging. High gloss moldings go especially well when the color of the molding matches a set trim color established in a room.
7. Wooden Features
High gloss finished wood is something to behold. The natural visual texture of the wood pairs beautifully with the smooth, glassy appearance of high gloss. When applied with the right color of high gloss, the wood's color can appear to be more vibrant, almost as if the wood is still part of a living tree. High gloss finished wood can give any room character while also protecting it from moisture. Select high gloss paint for features like interior shiplap or wood paneling on feature walls.
8. Any Room With Good Lighting
We cannot say it enough — high gloss painted rooms look stunning when the light strikes them. So if you're uncertain where to apply it, think about where you get the best or most elaborate lighting in your home.
A chandelier paired with a high gloss painted ceiling makes the fixture feel like it has doubled in size and in the light it emits. A room with excellent natural light would also make for a fantastic environment to implement high gloss. The light coming from outside will bounce around any high gloss painted features, providing a visual of the light moving throughout the room.
Contact Shoreline High Gloss for High Gloss Paint Services
High gloss is both durable and can elevate any room's appearance. If you're confident that you know where to use high gloss paint, you need to be careful how you approach applying it. When applying a high gloss finish, any impurities found on the surface can become more visible. There are certain processes that need to be followed before painting the finish that not everyone is aware of. This means you have to be especially careful with who you trust to paint high gloss on your precious home.
At Shoreline High Gloss, you can trust we will perform a quality job. We are one of eight painters in the world with a Master Certification in Fine Paints of Europe with a specialization in high-end gloss finishes. We're industry leaders in our field and would love to help you realize your high gloss vision for your Palm Beach, Florida, or Manhattan home. View our gallery of work and contact us today to schedule a consultation.