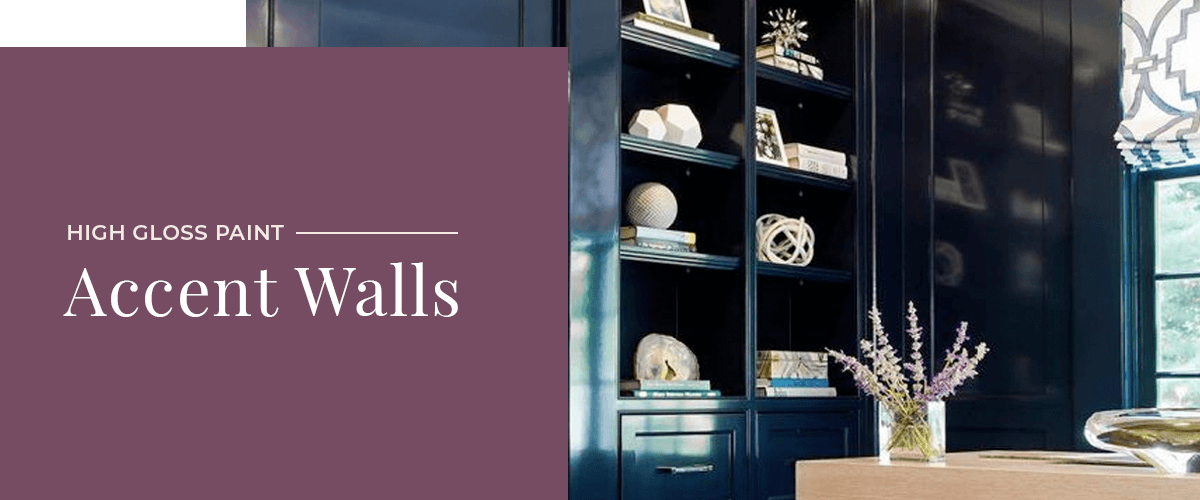 An increasingly popular trend in interior design, accent walls are a tasteful way to set one wall apart from the others in a room and create stylish contrast. If you're considering creating one in your home, browse our handy guide for plenty of accent wall paint ideas.
What Is an Accent Wall?
An accent wall is any exterior or interior wall featuring a different color, pattern, design or material than the remaining walls in the room. An accent wall aims to draw visual attention or serve as the focal point of a room. These walls can work in any type of room in a house, whether it's a dining room, hallway, living room, kitchen, bedroom or office.
The Benefits of a High Gloss Accent Wall
Though it may be a simple upgrade, an accent wall can be a game-changer for your space. Here are four benefits of a high gloss accent wall.
1. Adds Character
As mentioned, the primary purpose of an accent wall is to draw focus to a particular area. Often, individuals will choose a neutral shade for three walls, then contrast it with a bold, striking color for the accent wall.
This is a great way to draw attention to a specific area of the room that may otherwise go unnoticed, making the space more interesting and aesthetically pleasing overall. In particular, high gloss paint can bring more light into a room by amplifying the glow from light fixtures.
2. Creates Many Possibilities
There's a wide range of accent wall paint colors to choose from, offering limitless possibilities to enhance your space. Whether you prefer warm and rustic or clean and modern, there's a high gloss accent wall that speaks to your style.
3. Opens Up Your Space
Because an accent wall adds more depth and contrast to a space, it can help a small room seem larger. Changing one wall to a bolder color can create a more open feel and do wonders for your space.
4. Offers a Big Impact Without Major Construction
Believe it or not, the best home renovations aren't always the largest and most time-consuming ones. A simple accent wall can make a major difference in your home's quality and appearance. For example, your once straightforward and simple family room can be transformed into an interesting, dynamic space everyone wants to spend time in.
How to Choose an Accent Wall Color
Below are three factors to consider when choosing an accent wall and paint color.
1. The Other Walls
The shade of your accent wall should complement the remaining walls in the room. Unless the rest of the room is a neutral color like cream or white, you'll want to ensure the accent wall color doesn't clash with the other walls. Selecting a color from the same palette as the main color is a good way to match your accent wall to the other three walls.
2. Room Dimension
A room's dimension can often influence which wall will best serve as an accent wall, particularly when it comes to an oddly shaped room. For instance, if you're working with a long and narrow living room, using the shortest and farthest wall as an accent wall can help balance the shape of the room so it feels more square.
3. Furniture and Décor
Besides choosing a complementary color, you'll want to factor in other elements in the room. Maybe you have decorative throw pillows, a favorite painting or a specific rug you want to match. Drawing a color from these elements can help tie your accent wall to the rest of the room.
Additionally, aim to match your furniture to the high gloss paint on your accent wall. For example, a charcoal or mocha wall color might pair nicely with dark wood furniture, while wall colors like sage and dark gray are more suited for lighter furniture.
While the above tips can guide you in selecting an accent wall and color, talking to your painting contractor at Shoreline High Gloss is ultimately the best way to make the most informed decision.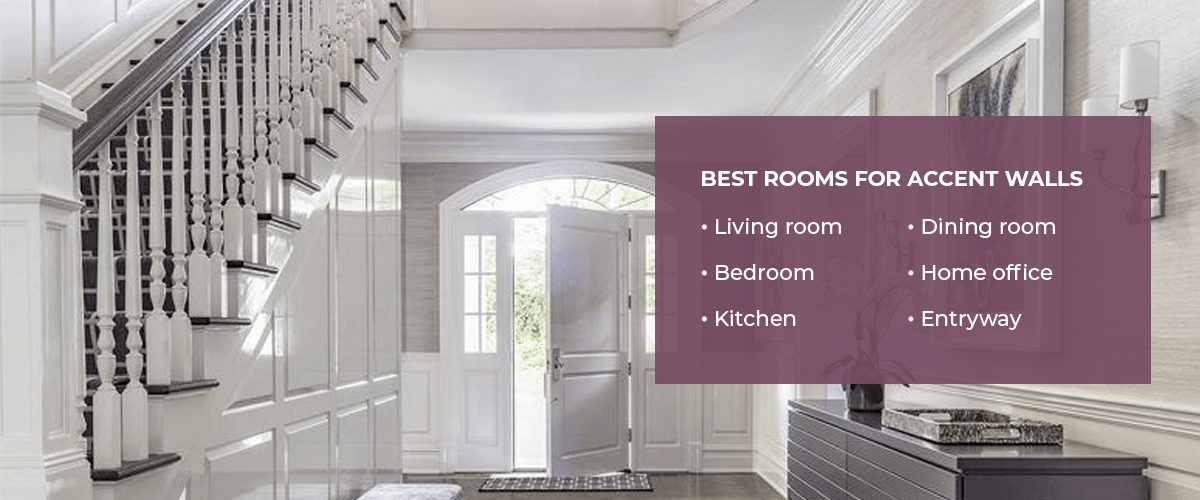 Best Rooms for Accent Walls
Function is key when it comes to decorating a room, so if you're thinking of adding an accent wall to your space, consider how you plan to use it. In most cases, accent walls are best suited for the following areas:
Living room: Try putting an accent wall behind a sofa, fireplace, television or bookcase.
Bedroom: An accent wall looks great behind a bed or headboard.
Kitchen: A brick, rustic wood panel or high gloss painted accent wall is a great way to spruce up your kitchen.
Dining room: Putting an accent wall behind a large painting or dining room table can make the area look more distinct.
Home office: A bold accent wall behind your desk can highlight the space.
Entryway: An accent wall adds a lovely splash of color to an entryway for a strong first impression.
Best Color Combinations for Accent Walls
Unlike some matte paints that give walls a flatter appearance, high gloss paints have more resin than pigment. This creates a mirror-like finish when applied correctly by a skilled paint contractor at Shoreline High Gloss. Here are some great high gloss paint colors for accent walls:
Warm colors: Warm tones like a darker yellow, burnt orange or muted red create a sense of warmth and coziness. They pair wonderfully with wooden furniture for a well-balanced rustic feel.
Cool colors: A shade of blue, purple or green for an accent wall can create a more open, relaxed feel.
Black and white: A black accent wall creates amazing contrast and a clean, modern feel when paired with white or cream walls, adding an interesting dimension to your bedroom or living space. Its neatness and simplicity leave room for colorful artwork and other decorative pieces.
Contact Shoreline High Gloss for Accent Wall Projects
If you're considering an accent wall for your home, hiring experienced painters to help you select the right colors is essential. Luckily, Shoreline High Gloss is here to help you achieve the look you desire from this project.
Our highly experienced team can assist the entire process, from helping you choose the right color to deep cleaning your space after the job is complete. Servicing the New York City and Palm Beach areas, we provide many clients like yourself with specialty high gloss painting services to dramatically transform your space.
As a Fine Paints of Europe Master Certified Painter, you know you're in good hands when you trust Shoreline High Gloss to handle your painting needs. Contact us today for high gloss accent wall services!