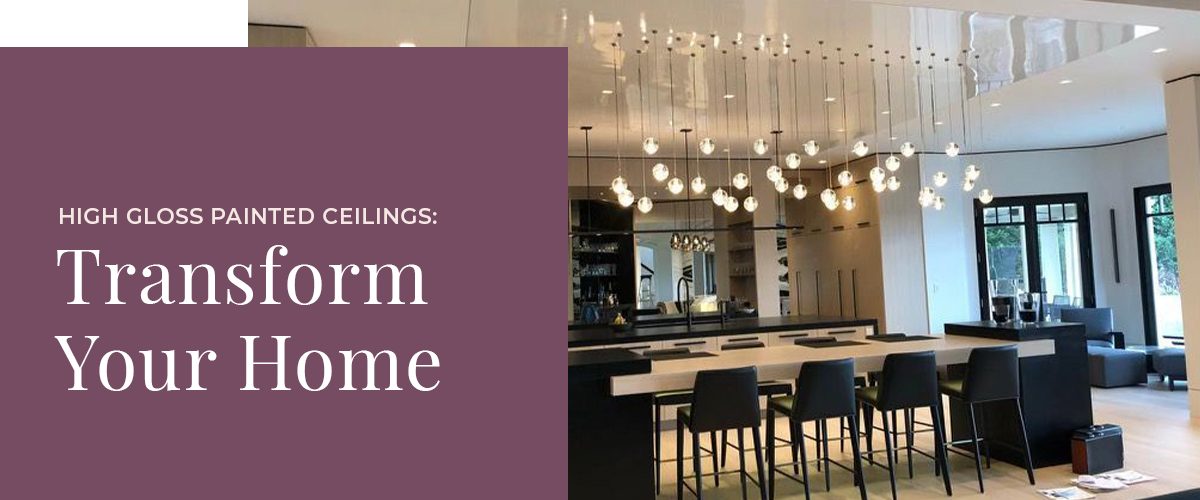 If you've ever walked into a room painted with high gloss ceilings, you know how impressive it looks. The gleaming, lustrous quality of high gloss ceilings gives an overall glamorous and luxurious feel, helping reflect light and make a room appear brighter and larger.
When it comes to refreshing a room with a new look or feel, many homeowners overlook the ceiling. However, there are so many ceiling paint ideas that can truly transform a space, creating a welcoming, eye-catching design. High gloss paint is an excellent way to accomplish this "wow" factor and add luxury to your home.
Reasons to Have Your Ceiling Painted With High Gloss
If you're looking for accent ceiling paint ideas, high gloss is a great choice. The benefits of high gloss paint are many, from the functional to the aesthetic qualities it provides for any room. These are the top reasons you should consider high gloss paint for your ceiling:
Gives a Sense of Luxury
High gloss paint, when used anywhere, often gives the subject a more luxurious look. It's generally associated with elegance and glam aesthetics. When it's used on a ceiling, high gloss paint can elevate the whole room, bringing a touch of luxury to the space. High gloss ceilings demand attention and draw the eyes upward. The shiny, glamorous finish also brings attention to other features on or near the ceiling, such as architectural details, trim work or unique lighting fixtures.
Creates a High-Contrast Focal Point
If painting an entire room in high gloss paint seems too overwhelming, consider the dramatic impact of a high gloss ceiling for contrast. The ceiling is an often under-utilized focal point in the room. The light-catching glossy surface is energizing, attention-grabbing and transformative for your space.
Makes Rooms Look Larger
Just as light-catching high gloss surfaces create focal points, this same quality can also make a room look larger, especially when the high gloss paint is used on the ceiling. The high gloss surface reflects more light than other surface finishes, helping bounce more natural light around the room and brighten up any space — even darker rooms. This effect can make a room seem taller or simply larger in general.
Offers Bold, Eye-Catching Color Options
Choosing the colors for any painting project is the most fun part. With high gloss ceiling paint, you have a wide range of options. For ceilings, white remains an enduring and classic choice, and with the high gloss finish, this paint enhances your ceiling, providing a glow and reflective quality for the room.
White certainly isn't your only option, though. The dramatic quality of the high gloss finish lends itself nicely to bolder color choices like deep reds, blues, greens and more. A bold color choice in a high gloss finish brings the room together, enhancing the style and design.
Creates a Durable and Long-Lasting Change
High gloss paints look spectacular, and they are incredibly durable and long-lasting, as well. While your ceiling may not see much wear and tear, with a high gloss finish, the look you want will last for years. High gloss paints are meant to resist wear and make the surface easy to clean while retaining the original lustrous quality.
It's this durability that makes high gloss paint ideal for even high-humidity areas like kitchens, laundry rooms and bathrooms, but it is a smart choice for any space!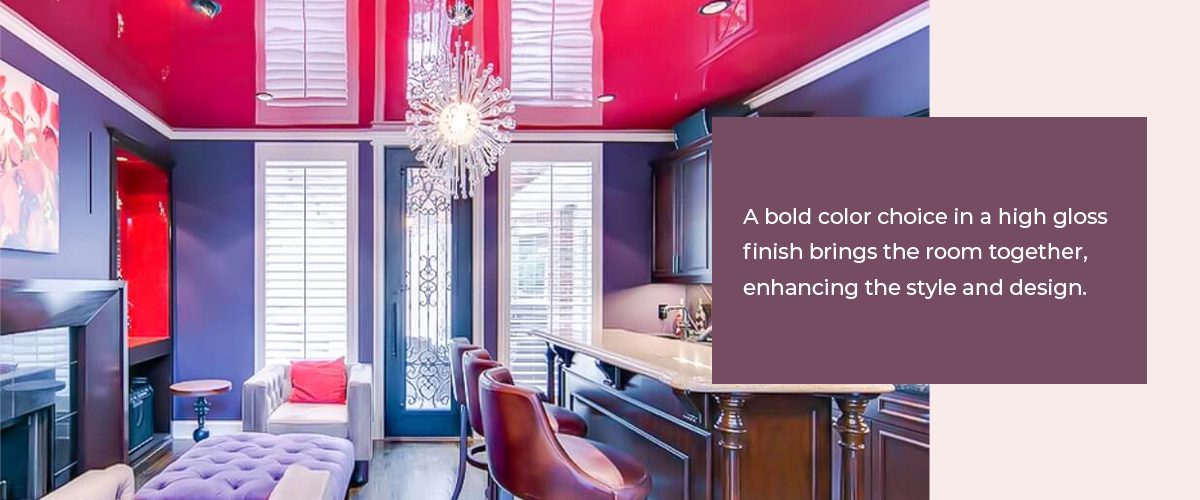 High Gloss Ceiling Color Inspiration
When it's time for a refresh in your home, high gloss paint on the ceiling will enhance the look of your room. If you're wondering how to choose a ceiling color that will give the effect you want, you've come to the right place for inspiration. Let our ceiling paint ideas for living rooms, bedrooms or any room inspire and guide you:
1. Using White on the Ceiling
By far, white tends to be the most popular color for ceilings. It's a classic choice for any room. White ceilings suit rooms that are already filled with bright colors, allowing the other pieces to shine. It's also a great choice for rooms that don't see a lot of natural light — the white reflects and bounces light around, making the room appear brighter. A high gloss finish will enhance this effect even more.
2. Matching the Ceiling to the Walls
Choosing to use the same paint color for walls and ceilings can unify the style of a room and let your furniture and decor be the focal points. Using a dark color can make a space feel cozy and intimate, while choosing a lighter color can make a room look more open and spacious. The right colors can depend on the size and type of room you want to transform.
The matched look works well in rooms that are asymmetrical or have vaulted or unique ceiling shapes. The dramatic style of a one-color room can highlight what makes your space one of a kind.
3. Using Lighter Ceiling Colors
Painting a lighter shade of your wall color on the ceiling can give a subtle low-contrast look. It's suitable for anyone craving simplicity and a more classic style. Similar to white ceilings, this option can make a room feel brighter and more open. If you have a room with low ceilings, a lighter paint color up above can make the space feel more open.
4. Using Darker Ceiling Colors
If you want contrast, high drama and sophistication, choose a ceiling color that's darker than your walls. This unique choice can have dramatic effects for any room while also creating a sense of coziness and intimacy.
A darker ceiling color works particularly well in rooms with tall walls. The look will draw the eye up to showcase the high ceiling height. Darker colors on the ceiling are also a great choice if you have architectural details, such as trim and crown molding, that you'd like to highlight.
Work With the Professionals at Shoreline High Gloss for Your Ceiling Painting Project
Painting a ceiling is a project best left for the professionals at Shoreline High Gloss. Trying to do it yourself can be dangerous and messy and result in a less-than-satisfactory look. Our team has more than 35 years of experience and offers unmatched quality and craftsmanship to our many satisfied clients. We're a Fine Paints of Europe Master Certified Painter, so you know you can expect only the best from us.
Contact us today to get started on your ceiling painting project.