Discerning NYC and Palm Beach homeowners understand the transformative power of reflective light in an interior space. High-shine surfaces bounce light around a room to extend the visual space in a stylish way. Whether you desire a dramatic mirror-like ceiling coating to reflect high-end chandeliers or a luxurious high-gloss bathroom paint treatment, finding the right contractor to create that flawless high-sheen finish demands the very best in the business.
Knowing how to choose a high gloss painting service will ensure your paint job is applied perfectly and lasts for years to come. In the sea of available paint companies, it's not easy to pinpoint which one deserves your business. You'll want to look for candidates who are experienced, reputable — and what else, precisely?
Read on to learn the top qualifications to look for when picking a high gloss painting service.
What to Look for in a High Gloss Painting Contractor
Know how to choose a good high gloss painting company by looking for the qualities that separate the pros from the rest. Our painting contractors approach every project as a unique experience, adjusting their approach to accommodate all factors to provide the best high-shine finish possible for your surfaces.
Shoreline High Gloss offers a superior preparation and painting process to nail a pristine finish for every home, every time:
1. Preparation and Precision
Proper preparation is crucial for a successful painting outcome. You deserve the peace of mind knowing our painting contractors will take the utmost care to thoroughly prepare your home, walls and surfaces to ensure a long-lasting, professional finish.
At Shoreline High Gloss, we've perfected a time-tested painting process that delivers the superior results you're looking for:
We protect your property: We take paint prep very seriously. Our specialists always paper floors, tape around windows, cover tiles, safeguard furniture, cover decorative hardware, wrap exposed plumbing and more. When we say we'll thoroughly protect your home, flooring and furnishings, we mean it.
We fix imperfections, sand and prime to perfection: A top-quality gloss finish starts with a flawless base. We catch and fill every nail hole and wall flaw, no matter how small. Walls, cabinetry and trim undergo several passes of spackling, caulking, sanding, primer and careful review to create the smoothest pre-paint foundation.
We inhibit particulate interference with your finish: Shoreline High Gloss professionals have perfected the process to create a dust-free, mirror-like paint finish. Our team thoroughly cleans and wipes down surfaces with denatured alcohol to a white-glove-worthy standard to prevent surface dust from settling in paint coatings.
2. Experience and Expertise
High gloss paint finishes are gorgeous — when done right. When choosing a high gloss painting contractor, remember that anything less than a flawless paint application by a properly trained hand will show every imperfection, brushstroke or speck of dust. With decades of experience in the business, our paint professionals have the experience and specialized training to create beautiful high-shine treatments others can't.
Shoreline High Gloss is a Master Certified Fine Paints of Europe company, recognized for excellence and expertise in high gloss painting and specialty finishes. We pride ourselves on being one of eight painting companies in the world with these credentials, offering the highest level of certification and craftsmanship to our clients.
Our specialists are highly trained to apply high gloss paint perfectly every time:
We use only the best filler-free paints in the industry.
We know how to address a variety of complex surface issues.
Our preparation approach prevents woodwork tannin bleed through.
We've mastered our application process for a brushstroke-free result.
We can prepare slick surfaces for the strongest possible paint bond.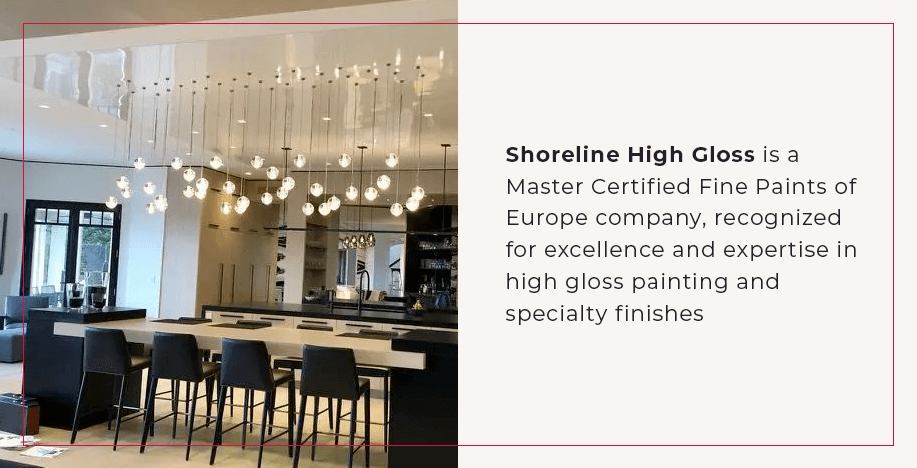 3. Certifications and Insurance
Without the proper insurance and state-issued licensing, you aren't hiring a legitimate painting contractor. Before you hire a painting company, it's imperative to know if they have their credentials in order. Certifications showcase qualifications for the job and prove they can protect their employees — and your property — in the event of an accident.
Our exemplary qualifications underscore why prestigious clients and esteemed designers highly recommend Shoreline High Gloss:
Fully certified: All Shoreline High Gloss professional painters are fully bonded, licensed and insured.
Employees only: We never use third-party contractors. All of our long-term painters are experienced, highly trained employees.
Specialized training: As Fine Paints of Europe Master Certified Painters, we're formally trained in complex high-gloss application techniques.
Industry experts: Our artisans are recognized leaders in the industry recommended by one of the world's finest specialty paint manufacturers.
Additionally, leadership is present at every job site at all times. For the entire duration of your project, a crew leader, general manager and job site supervisor are present at your home during working hours to guarantee superior standards of safety and professionalism are upheld.
4. Product Quality
As the desired shine in a paint finish increases, so does the difficulty of a successful application. For a glossy finish, conventional methods and domestic paints won't do. A painter can meticulously prepare and use precise painting methods, but the final outcome will fall short if the products used are substandard. Too many contractors use subpar paints with chalk and other inexpensive fillers.
As a Fine Paints of Europe Master Certified Painter, Shoreline High Gloss utilizes only the highest caliber formulas from one of the world's leading luxury paint brands to bring our clients' paint gloss finishes to life. You can trust our products are:
Architectural-grade: We use the highest quality primers, and our paints are filler-free, highly pigmented and composed of the finest bases.
Long-lasting: Our fast-drying paints won't lose their luster or yellow, and will look beautiful for 10 years or more — significantly longer than other brands.
Eco-friendly: An excellent option for interior spaces, our odorless, 100% water-based Eurolux Acrylic Interior gloss paint is Leadership in Energy and Environmental Design-certified (LEED) and contains low volatile organic compounds (VOCs).
Durable: Our highest quality products ensure your cabinets, doors and other heavily used surfaces can take a scrubbing and look incredible for years.
Marine quality: High-gloss Hollandlac paint is so resilient, your boat could be painted with this and sail into the Atlantic Ocean with zero issues.
Selection: Paints from Fine Paints of Europe come in virtually unlimited shades and colors.
5. Client Satisfaction
If a contractor has a masterful painting hand but fails to protect your property, leaves a mess and doesn't deliver the results you were promised, their ability doesn't matter. We treat your project and home with the utmost respect from beginning to end. Our preparation, painting and cleanliness standards are top-notch.
Shoreline High Gloss will leave the painting site clean every day, and our project costs include the thorough cleaning of all surfaces and removal of debris, materials and coverings. When we finish the job, the only thing you have to do is enjoy your beautiful space!
Project photos, repeat customers and reviews are the most reliable indicators of what you can expect from a company. Our clients' stunning interior transformations speak for themselves.
Transform Your Home With Shoreline High Gloss
Now's the time to step into a refreshed, elevated home. Shoreline High Gloss has the precision, specialized training, certification and superior quality to provide the most beautiful high-shine finishes for your walls and cabinets. With rave reviews, decades of experience and our Fine Paints of Europe Master Certified Painter distinction, you can trust us to get the job done right the first time.
Our New York and Palm Beach-based, family-owned and operated company offers expert high gloss services that transform our delighted clients' spaces. Schedule your consultation and free estimate by calling us at 212-764-3059 or contacting us online today.