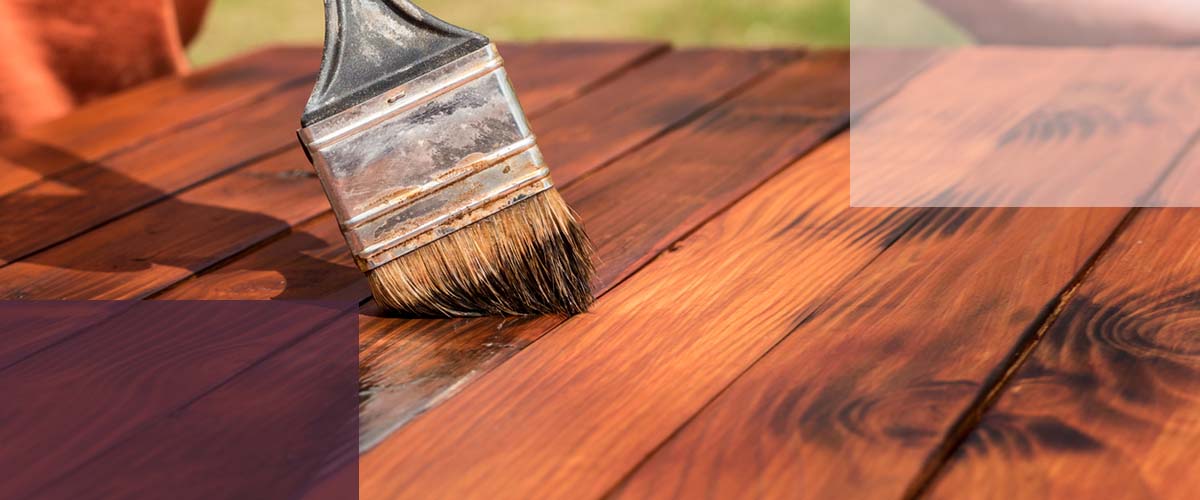 High gloss furniture adds a sleek and modern touch to outdoor spaces. The reflective surfaces and unique colors are excellent for altering moods and switching up your style. This finish is breathtaking, and more homeowners are starting to imagine ways to use it that they never considered. With a professional paint job from Shoreline High Gloss, you can enjoy the fresh, sleek look of high gloss-painted furniture in any outdoor area.
Why Paint Exterior Furniture With High Gloss Paint?
High gloss paint offers many benefits for your furniture, and you can transform spaces by having your furniture refinished in ways that will stand out to you and your guests. High gloss paint can transform your furniture, outdoor living spaces and antique pieces that you want to preserve and stand out.
High gloss finishes can protect your furniture from moisture in areas that receive high humidity. Water can severely damage wooden pieces and leave cracks, watermarks, swelling and warping on the surfaces. Furthermore, high-traffic areas that see many children or guests experience more wear and tear. Applying high-end, fine finishing can preserve furniture in these areas by adding a protective finish between the surface and everyday activities or natural elements.
Additionally, high gloss paint can revitalize old pieces and spaces. Rather than finding new furniture to fit your area, you can add bold colors and bright contrasts to your existing pieces. Gloss surfaces provide mirror-like finishing and reflective surfaces that other paints can't offer. In the daytime, your high gloss pieces can playfully bounce light around, and in the evenings, soft reflections can illuminate your guests and provide a unique shine in your space.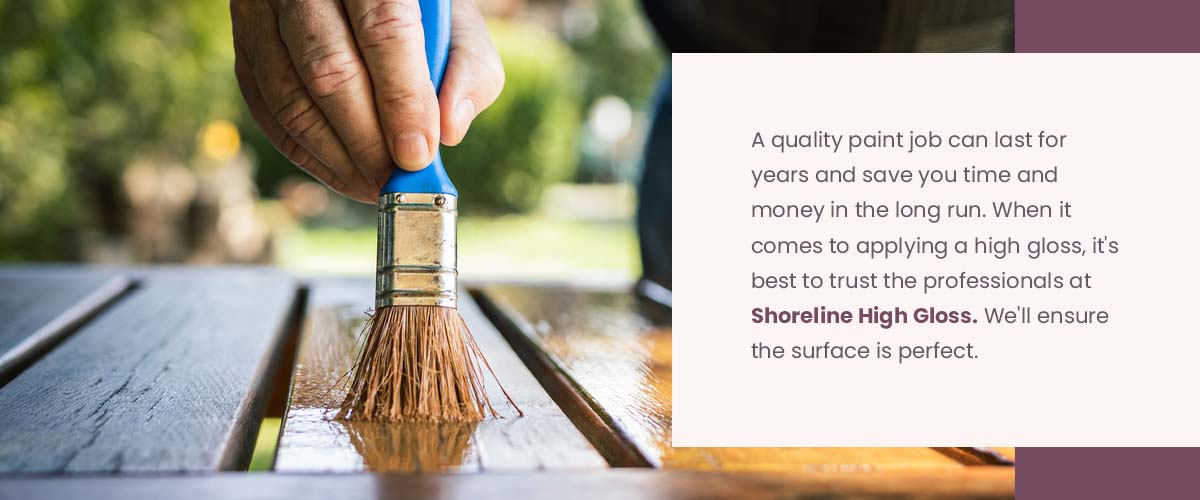 How Professionals Paint Exterior Furniture With High Gloss Paint
A quality paint job can last for years and save you time and money in the long run. When it comes to applying a high gloss, it's best to trust the professionals at Shoreline High Gloss. We'll ensure the surface is perfect. Any imperfections, dust spots or grit will show under the sleek finish. Painting any surface with high gloss is worth it, but it takes time and effort to ensure a beautiful product. Working with Shoreline High Gloss to complete these projects ensures you'll receive the high-end result you expect. Learn how professionals paint furniture with high gloss paint:
1. Prepare the Workplace and Furniture
Getting a high gloss finish on painted wood begins with preparing all the pieces. First, we remove all the hardware from your furniture and set them in a secure location. Removing hardware helps us avoid getting paint on these pieces and ensures we can easily access every nook and cranny of your furniture. We also use tape to avoid painting spaces you want to keep clean, such as door cavities and drawer sides.
We then clean the surface and remove any oils, grime, dust or other debris that could prevent a smooth finish. If we're painting wood furniture, we're sure to use a safe cleaning product that won't affect the wood grain or overall look. We also sand out any scratches, dents or scuffs that can prevent the paint from sticking. High gloss will amplify any imperfections left behind, so we're careful to remove anything you won't want to see once the paint is applied.
2. Apply the Primer
Primer helps paint stick to the surface of an object. Regardless of your furniture's material, applying primer is crucial. Primer helps us avoid streaky marks and areas with uneven coats and ensures we achieve the results you want to see. Additionally, wood stain can bleed through the paint without a primer layer. Skipping this preparation step can result in a waste of time and money.
Sanding helps makes surfaces more receptive to primer, which is another reason we sand your furniture during preparation. Sanding also helps remove any stubborn buildup that your piece accumulated over the years. After sanding the piece, we wipe away any excess dust and debris before applying the primer.
A quality primer will ensure your furniture has good coverage and doesn't experience cracking or peeling. We apply the primer and wait for it to dry before applying any paint. If the original finish is still visible after the initial coat, we may apply another coat of primer.
3. Apply Your Paint
Whether you're interested in high gloss paint for wood furniture or another material, we'll be sure to use paint suitable for exteriors. Our paints have a UV protectant that prevents fading over time. These high-quality finishes mean you're less likely to experience natural wear and tear and can enjoy your new look for much longer.
Paints with latex can provide a more durable finish that lasts on furniture. We may need to apply more than one coat of paint to achieve that beautiful, sleek finish. Achieving a glossy finish takes time since we always wait for a coat to dry completely before applying another.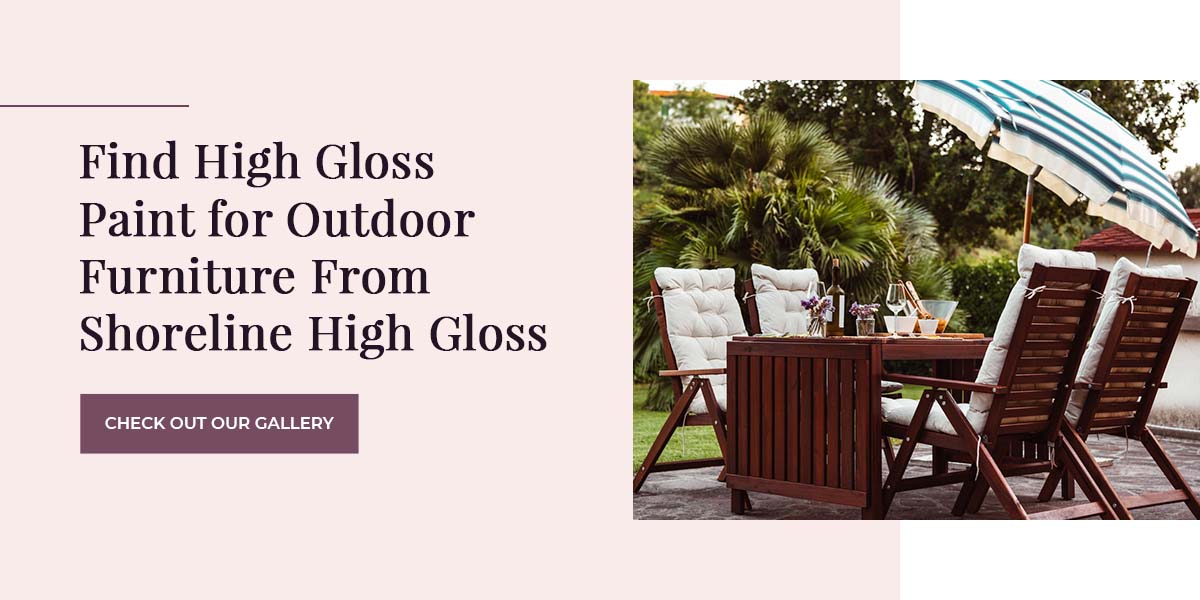 Find High Gloss Paint for Outdoor Furniture From Shoreline High Gloss
Shoreline High Gloss is a Fine Paints of Europe Certified Master Painter, and we're one of eight painters in the world with these credentials. We specialize in high-quality, high gloss finishes and high-end craftsmanship. We're innovative, knowledgeable and versatile, so you can always count on us to deliver a beautiful result on any wall or piece of furniture.
Your satisfaction is our top priority, which is why we work smarter and harder to achieve your desired results. With Shoreline High Gloss, you can expect incredible service from a family-owned and -operated business. We've been in business for more than three decades, and we haven't stopped growing since.
Our products and service truly stand out, and you can always rely on our highly trained and skilled artisans to use expert techniques and specialty knowledge to achieve the high gloss finishes you deserve. When you choose us, you can expect long-lasting quality and a sharp and modern look you'll love.
To see what we can do for you, check out our gallery. Whether you're looking for ceilings, doors, cabinets, interiors, exteriors or furniture, we've got you covered.