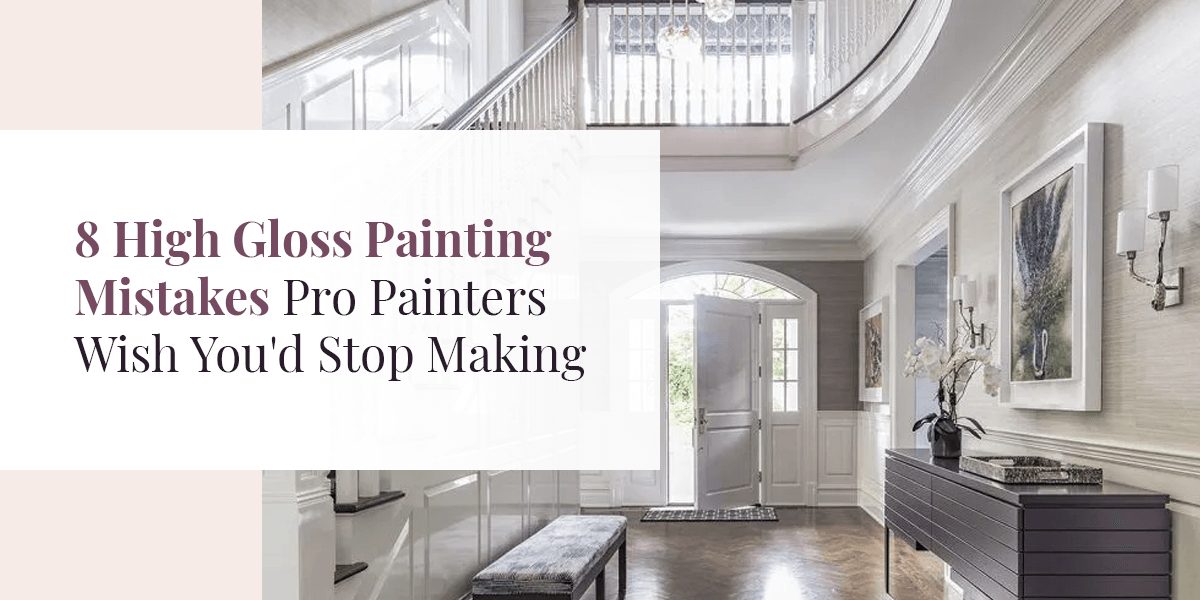 Home to some of the world's most glorious art and architecture, New York City is steeped in rich history, modern innovation and breathtaking views. A muse crafted from concrete and glass, the City of Dreams inspires homeowners and designers with its jewel-like skyline glinting in the sun.
Discerning NYC homeowners desire to bring this same light that dances off mirrored skyscrapers into their homes in an unforgettable way, using reflective high gloss paint finishes. And homeowners around the country dream of the same high-end finishes for their own homes.
High gloss paint applications are stunning — when finished perfectly. Many people attempt painting as a do-it-yourself project or hire non-specialized painters to achieve this distinctive look and end up with less-than-ideal results from untrained methods.
Explore the top high gloss painting mistakes our experts wish you'd stop making so you can enjoy a beautiful, professional finish done right the first time.
1. Choosing the Wrong Paint Color
With more people working at home than ever before, Americans spend a significant amount of personal and professional time in their households. You deserve inspiring walls and cabinetry that boost productivity and provide a renewing environment to enjoy day and night.
One of the most common painting mistakes is selecting a color from a strip without first testing it in your home. Without swatching, that elegant emerald you have in your mind could turn into an unintentional green-screen wall that overwhelms the living room. Hues can appear dramatically different depending on:
Natural and other lighting changes throughout the day
The size, use and desired mood of the room
The room's art and furniture
Lighter palettes and timeless neutrals open up rooms visually, and on-trend jewel tones and deeper colors create more intimate, sophisticated spaces. Color choices have different psychological effects on your room experience. Ultimately, it's your dream space — pick colors that bring you the most joy.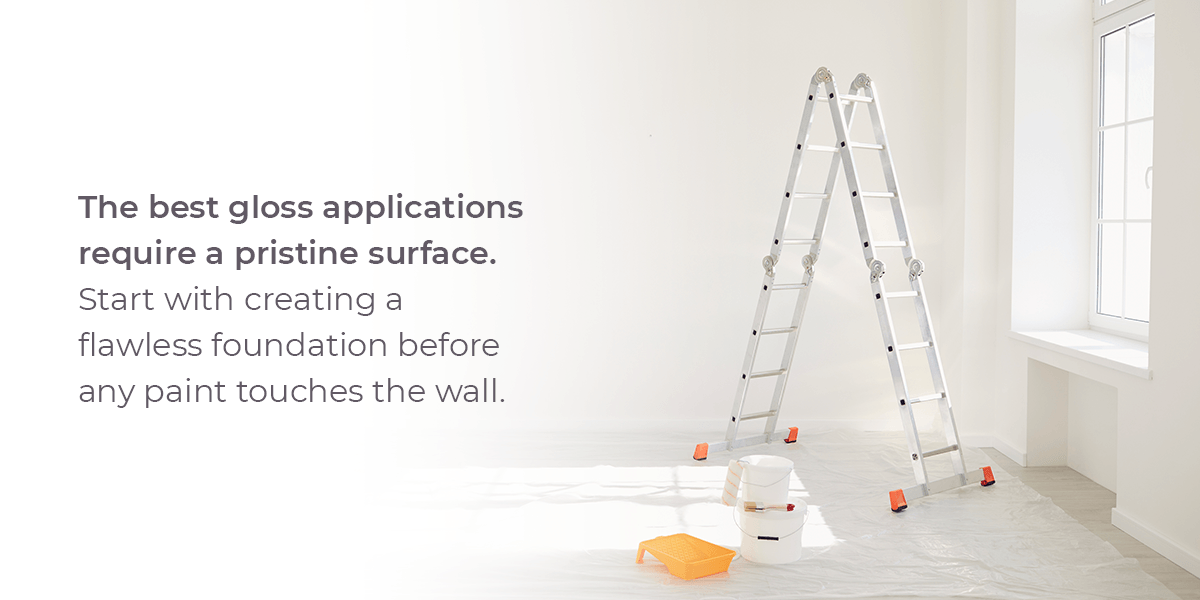 2. Failing to Prep the Walls
The best gloss applications require a pristine surface. Start with creating a flawless foundation before any paint touches the wall. Even the highest quality paints can't cover surface imperfections.
Experienced painters from Shoreline High Gloss know how to avoid high gloss painting mistakes by carefully preparing the walls and residence with steps such as:
Filling holes and other imperfections
Caulking trim for seamless transitions
Conducting multiple passes of fine sanding
Cleaning to remove dust and other particulates
Protecting furniture, flooring and pathways with covers
3. Selecting the Wrong Paint for a High Gloss Finish
From imperfection-hiding matte to low-luster satin to shiny gloss and mirror-like brilliant coatings — as the desired paint sheen level increases, so does the complexity of a successful application. For a glassy finish, domestic paints will not do.
Many conventional paint manufacturers add chalk and other inexpensive fillers to their products, compromising quality for a lower price point. Shoreline High Gloss utilizes Fine Paints of Europe finishes, offering only the best formulas to bring clients' high-sheen goals to life. Our paints are filler-free, composed of the finest pigments and bases to yield an architectural-grade coating:
Hollandlac Interior/Exterior Traditional Oil Paints: This line of alkyd-based, solvent-thinned enamel paint is available in satin and super high gloss. Hollandlac's marine-quality paint is exceptionally durable — you could paint your boat with this and set off from NYC into the Atlantic with no issues. Perfect for heavily used front doors, cabinets and furniture, Hollandlac's porcelain-like finish speaks for itself.
Eurolux Acrylic Interior: This odorless, 100% water-based acrylic paint is available in matte, flat, satin and gloss finishes. While this paint spreads quickly, it can be overworked if applied by an untrained hand. LEED-certified and low VOC, odorless Eurolux is an excellent option for interior spaces.
ECO Waterborne Interior/Exterior: This state-of-the-art, low-odor hybrid paint is a water-thinned and oil-based emulsion. Combining the advantages of acrylic and oil formulas, this versatile choice is available in satin and super high gloss and is ideal for wood exterior house treatments.
4. Choosing an Incompatible Paint for the Surface
Interior and exterior walls and woodwork are finished with a wide variety of stains and paint mixes. Your walls may have several existing layers of paint from decades past, and without proper planning, you may pick a paint formulation that is incompatible with the surface.
These high gloss painting mistakes cause adverse paint reactions:
Painting water-based formulas over oil-based paint: Water-based paint cannot bond to an oil-painted base, resulting in chipping and paint separation.
Painting on top of slick surfaces: A shiny surface must be sanded or deglossed or the new paint will not adhere well, leaving it susceptible to peeling and scratches.
Painting over wallpaper: Using water-based paint directly on a wallpapered wall can reactivate the glue, loosening the paper from the wall.
Painting wood without a stain blocker: Wood varieties like cypress and redwoods have tannins that bleed through water-based paints if a blocker is not first applied.
5. Omitting or Using Incorrect Primer
Primer is an absolute necessity for high gloss finishes. Primer acts as a bridge to connect the to-be-painted surface to the new paint, bonding the surfaces for a long-lasting finish. Specialty primers can:
Seal porous surfaces
Block stains from wood tannins, water and metal
Prevent mold and mildew
Bond new paint to slick surfaces
Many domestic primers are incompatible with brilliant sheen paints. Our high gloss professionals will select an appropriate primer based on your paint surface, environmental factors and chosen paint formula.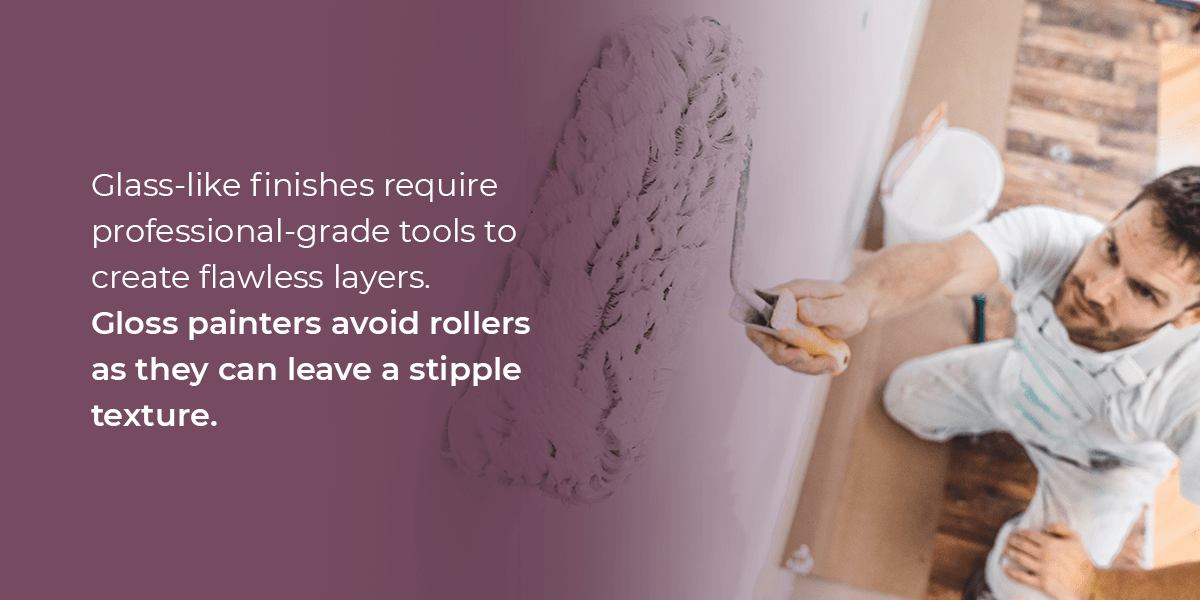 6. Working With Low-Quality Tools
Low-priced brushes shed bristles, and cheaply made rollers leave fuzz on the wall. Glass-like finishes require professional-grade tools to create flawless layers. Gloss painters avoid rollers as they can leave a stipple texture.
Due to the heavily pigmented nature of high-quality gloss paint, these formulas have a different brushing characteristic and viscosity than traditional interior paints. We only use specialty brushes with the resilience needed to effectively apply layers of thin, even coats to prevent runs. From sprayers to brushes, the right tools wielded by a professional hand will achieve the long-lasting coverage you seek from high-shine paint.
7. Painting in Extreme Temperatures
Painting should be completed in conditions that adhere to formula recommendations, generally when humidity is around 50% and the temperature is between 60 and 85 degrees Fahrenheit. Here are the top three temperature-based high gloss painting mistakes to avoid:
Painting when it's too cold: Water-based paint cannot dry properly in low temperatures and potentially could freeze.
Painting in scorching heat: Painting a hot surface can dry the paint too quickly, resulting in bubbles and peeling.
Painting in humid conditions: Moisture-rich air prevents complete paint curing, causing wrinkling, spots and tackiness.
8. Making DIY and Novice Painter Mistakes
Contaminated paint and rushed application methods interfere with gloss finish integrity. We see DIY-ers and unspecialized painters ruin finishes with these common mistakes:
Particle contamination: Rollers touching the floor, lids left off paint cans and working in an unclean space dirties and dries out your paint. Dust and pet hair in the atmosphere can embed in wet paint quickly.
Poor tape techniques: Using masking tape instead of quality painter's tape, incorrect tape application and leaving the tape on too long will result in paint bleeding and peeling.
Impatience and imprecision: Hasty painting causes paint drips and rollers to bump into the ceiling. If you paint a second coat before the first coat has cured, visible marks embed in the work done thus far.
Over-brushing and over-rolling: Improper brush and roller methods create ridges and uneven coats, especially in brilliant gloss coatings. High gloss requires multiple thin coats with ample drying time between each coat.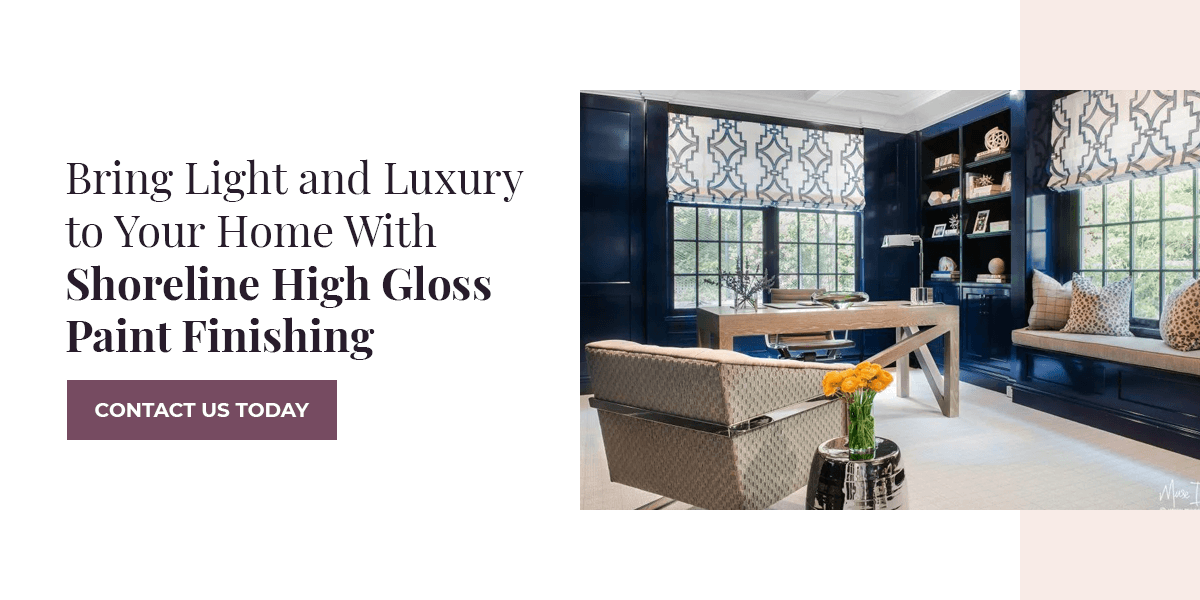 Bring Light and Luxury to Your Home With Shoreline High Gloss Paint Finishing
Highly desired yet challenging to achieve, perfectly painted high gloss finishes reflect light like no other, creating airy abodes in lighter colors and moody magic in darker spaces. One of the most beneficial tips to avoid costly high gloss painting mistakes is to get it right the first time with the trusted experts at Shoreline High Gloss.
Our family-owned company has over 35 years of experience bringing clients' design dreams to life with luxurious gloss finishes. One of only eight Fine Paints of Europe Master Certified Painters in the world, Shoreline is a recognized leader in high-shine paint services. We provide craftsmanship of the highest degree to homeowners in New York, Palm Beach and beyond.
To learn more about our specialty paint services, call us at 212-764-3059 or contact us today to schedule a free estimate for your next high gloss paint project.